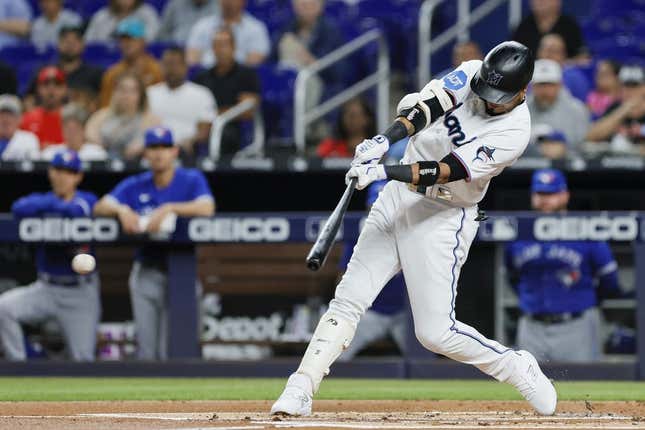 Luis Arraez's individual excellence is helping produce team success for the Miami Marlins, who have won five in a row entering the second game of a three-game set against the visiting Toronto Blue Jays on Tuesday
How running an NFL team is like running a restaurant | Chef Emeril Lagasse
Arraez notched his second five-hit game in a four-day span on Monday as the Marlins crushed the Blue Jays 11-0. The second baseman raised his average to .400 with his third five-hit game of the season
"I feel like every other day he gets five hits," Marlins manager Skip Schumaker said. "He's getting hard hits against good pitchers.
With one more five-hit effort this year, Arraez would tie the modern major league record shared by Ty Cobb (1922), Stan Musial (1948), Tony Gwynn (1993) and Ichiro Suzuki (2004) for most five-hit games in a single season.
Arraez was batting .402 through June 10, then went 1-for-17 in his next four games as his average slipped to .378. He is 11-for-14 in his past three outings.
The team success is what appeals to Arraez, who was acquired in an offseason deal with the Minnesota Twins after winning the American League batting title last year with a .316 mark.
"This is fun, because we won, everybody got a hit, so I'm excited for this team," Arraez said. "Now everybody starts to trust this team. I trusted this team when I came here for the first time, because we've got relievers, we've got starting and we've got a really good defense. This is fun, man, this is fun."
The Marlins will try to keep rolling on Tuesday behind Eury Perez (4-1, 1.80 ERA). The rookie right-hander has never faced Toronto, but the 20-year-old native of the Dominican Republic has made an impression by pitching to a solid 2.84 ERA in four May starts and a sizzling 0.56 ERA in three June starts
Toronto will counter Perez with Yusei Kikuchi (6-2, 4.31). The 32-year-old Japanese left-hander, who has never faced Miami, went 4-0 with a 3.00 ERA in April. He slumped in May (2-2, 5.83), but he has bounced back so far in three June starts (0-0, 3.68).
The Blue Jays, who have lost three straight and four of five, are determined not to panic
After all, it's still fairly early, and Toronto is a proven team, having made the playoffs in two of the past three years. And in that third season, 2021, the Blue Jays missed the postseason by just one game
The stats indicate they are a middle-of-the-pack team. The Blue Jays are tied for 10th in the majors in on-base-plus-slugging percentage (.747), and they are 12th in runs (330) and 14th in homers (83)
On the mound, the Jays are 14th in the majors in ERA (4.10), a figure that jumped from 3.99 after Toronto gave up 11 runs and 19 hits to the Marlins on Monday
"We have to tighten up," Blue Jays manager John Schneider said, "whether it's on the mound or in the field.
First baseman Vladimir Guerrero Jr. is philosophical about the team's slump.
"It happens," he said. "You can't put your head down. You just have to keep fighting and keep going out there trying to win every game. It hurts, but we're not frustrated."
--Field Level Media