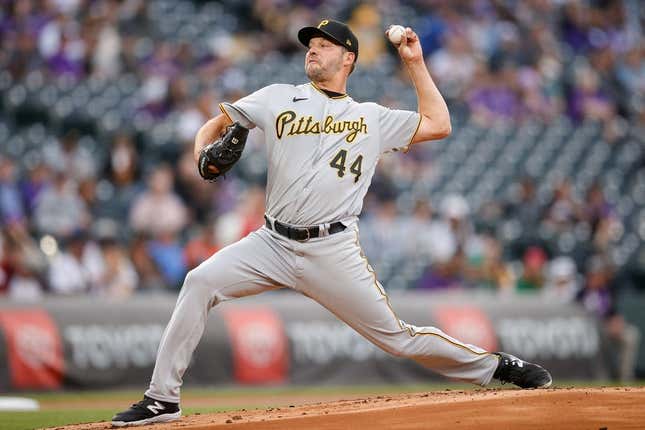 The Pittsburgh Pirates are one of the hottest teams in the major leagues. The Washington Nationals have been just about as good this week as they've been all season
'Soccer fandom is full of gatekeepers' says Ted Lasso actor Brendan Hunt
That should make for a compelling matchup when the teams open a three-game series on Friday night in Washington.
The Pirates, who beat the Los Angeles Dodgers 6-2 on Thursday afternoon to conclude a 6-1 homestand, have won nine of their past 10 games
"We know the style of baseball we are playing, we can get going and spark it at any time," Pirates first baseman Connor Joe said
The Nationals couldn't hold an eighth-inning lead and lost 9-8 to the host New York Mets on Thursday night. That result prevented Washington from securing its first three-game winning streak of the season
Still, the Nationals just completed a 4-2 road trip in which they opposed the Minnesota Twins and the Mets
"Let's go home and keep playing the way we're playing," manager Davey Martinez said.
Pitching has carried Washington, with the team's latest result aside.
"They're all throwing strikes, and I think that's the key," Martinez said. "It's a lot easier for our young pitchers to work ahead than from behind."
The pitching has also come together for the Pirates. Manager Derek Shelton said other pieces are in place as well
"Because we are athletic, there are things that we can do that should be able to maintain it," Shelton said. "It starts with playing defense and catching the ball."
Veteran left-hander Rich Hill (2-2, 4.85 ERA) will start on Friday for the Pirates. He has had similar results in his past two starts, both victories in which he gave up one run -- in six innings at Colorado and in five innings vs. Cincinnati
Hill is 2-4 with a 4.07 ERA in 11 matchups (eight starts) against the Nationals
Washington's starter will be right-hander Chad Kuhl (0-1, 7.36 ERA), who spent his first five major league seasons (2016-18, '20-21) with the Pirates. He threw 96 pitches in each of his past two starts, but he failed to complete five innings in both cases
Kuhl didn't get a decision when he faced the Pirates last year, giving up one run in 4 1/3 innings
The Nationals mixed up their lineup Thursday in New York. Among the moves, Michael Chavis started at second base and first baseman Dominic Smith had the night off, with Joey Meneses playing first base
Martinez said it's important to keep as many players as possible in game mode and he doesn't want players sitting out for long stretches.
Still, Meneses, who leads the team with 26 hits, is likely to log most of his playing time as the designated hitter.
"Right now, he's going to get most of his at-bats at DH," Martinez said. "That could change. I've got some outfielders I want to play. ... Continue to work on his routine (as DH), and I think he's getting better at it."
CJ Abrams smashed a grand slam for the Nationals on Thursday night, but it wasn't enough
Washington will be opening a seven-game homestand, as the Chicago Cubs will visit for four games next week.
For the Pirates, it's the start of a six-game road trip. After taking on the Nationals, they will go to St. Petersburg, Fla., to play three games against the major-league-leading Tampa Bay Rays
--Field Level Media