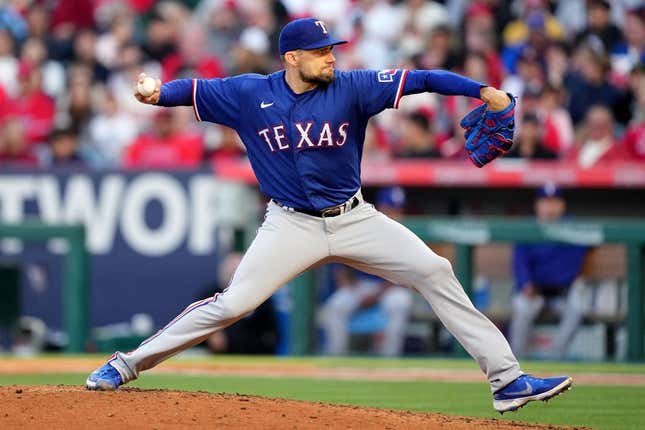 To see the disparity between the visiting Texas Rangers and the Pittsburgh Pirates entering their series that starts Monday, just look at both teams' recent performances
Can the Florida Panthers make a comeback? | Agree to Disagree
Texas pounded Colorado 13-3 Sunday for a series sweep, making the Rangers 5-1-1 in their past seven series, 9-2-1 in their past 12. They have reached 12 games over .500 for the first time since the end of the 2016 season
Pittsburgh fell to Arizona 8-3 Sunday and has gone 0-5-1 in its past six series. The Pirates, after reaching 12 games over .500 in April, have fallen back to two games over
In the series opener, Texas right-hander Dane Dunning (4-0, 1.69 ERA) is scheduled to oppose Pittsburgh right-hander Luis Ortiz (0-2, 5.63).
Dunning, after eight relief appearances in April, has made three starts in May as he fills in for injured Jacob deGrom, going 2-0 with a 1.59 ERA, with 12 strikeouts against two walks in 17 innings.
Tuesday against Atlanta, Dunning gave up one run and six hits in six innings to pick up a win.
"What another great job by Dane," Texas manager Bruce Bochy said. "He looked strong early, his stuff was actually up a little bit. He just got better with the command and everything, the movement.
"Since he's stepped in the rotation, he has just been unbelievable."
Dunning had a career 4.43 ERA entering this season but has focused on changing his mental approach.
"I kind of went back last year just to look over things, and I think last year I kind of threw myself into a wall a little bit just being frustrated with some outings," Dunning said, adding that now, "once the game's over, it's over. There's nothing you can do about it except move on to the next."
Dunning has faced the Pirates once, in 2020, pitching six scoreless, three-hit innings in a win
Ortiz, who has never faced the Rangers, was 0-2 in his first four big-league starts last season and has lost his two starts this year since his recall
Most recently, Ortiz gave up four runs (three earned) and seven hits in three-plus innings Tuesday at Detroit.
"My plan was to attack hitters," Ortiz said through an interpreter. "Nothing went the way I wanted to. I just went out there and continued to compete and do my best in that situation."
Pirates manager Derek Shelton pinpointed Oritz's trouble
"The fastball command was really inconsistent," Shelton said. "When he tried to go away, he missed in. When he tried to go in, he missed away. His fastball command, he never got in sync."
This could be Ortiz's last chance to prove himself this season, at least for a while. Pittsburgh starter Vince Velasquez, who is on the IL because of right elbow inflammation, made a successful first start Saturday on a rehab assignment with Triple-A Indianapolis and could return to the rotation as soon as this week.
--Field Level Media