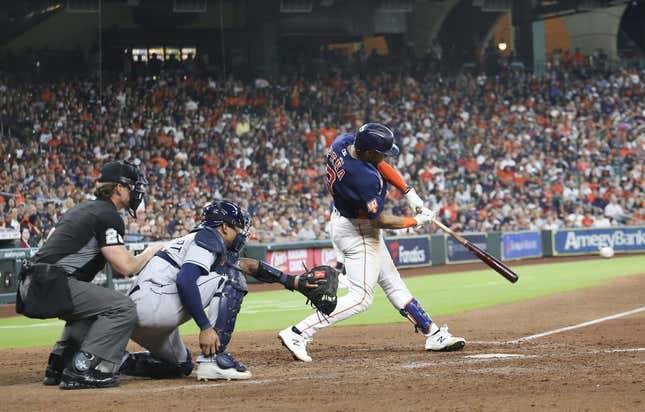 If there is a knock on the Tampa Bay Rays' scorching start, it's that they have been beating up mostly on teams with losing records
How running an NFL team is like running a restaurant | Chef Emeril Lagasse
On Monday, the level of competition picks up with the defending World Series champion Houston Astros set to begin a three-game series in St. Petersburg, Fla
Both teams are coming off three-game sweeps.
The Astros went into Atlanta and took all three against the Braves, while the Rays took care of business, winning their home set against the Chicago White Sox
The Rays have won all 13 of their home games this season, the most consecutive home wins to start a season in club history
Off to a 19-3 start, the Rays have homered in all 22 games to start the season, an MLB record. The Rays lead the majors with 48 home runs
In Sunday's 4-1 win against the White Sox, Luke Raley and Harold Ramirez went deep.
"A lot of power hitters here," Ramirez said in a postgame interview. "It seems like everybody has a plan at the plate. Everybody just tries to make good contact. The result is going to come."
The Astros, winners of four straight, are now 12-10 and starting to find their championship form. Houston outscored Atlanta 17-9 in their series sweep, stealing the final game by rallying from down 2-0 with five runs over the last two innings
In Monday's series opener, Tampa Bay starts rookie right-hander Taj Bradley (2-0, 2.61 ERA), who will be making his third big league start.
The Astros are going with right-hander Jose Urquidy (1-1, 3.66), who will be making his fifth start this season. The 27-year-old looks to bounce back from a loss in his last outing, when he gave up four runs on seven hits in 4 1/3 innings against the Toronto Blue Jays
Urquidy has faced the Rays twice in his career, both starts, and he is 1-0 with a 1.50 ERA with 11 strikeouts in 12 innings against them
Bradley made his MLB debut on April 12 against the Boston Red Sox, and he has won both of his big league starts. In 10 1/3 innings, he has allowed three runs and eight hits.
"I think we're seeing a guy that is coming into his own," Rays manager Kevin Cash told MLB.com. "He's going to continue to get better. He's certainly not a finished product, but how can we not be excited about what he's shown in two starts?
The 22-year-old has swing-and-miss stuff, reflected by his 17 strikeouts thus far. Equally impressive is the fact he's around the plate, as Bradley has walked just two batters.
In his previous start on April 18 at the Cincinnati Reds, Bradley fanned nine in 5 1/3 innings.
Urquidy traditionally isn't known for high strikeout totals. His K/9 rate this year is 7.8. What's worth monitoring is a rising walk rate, which stands at 3.2 per nine innings. A season ago, he posted a 2.1 walk rate in a career-high 164 1/3 innings.
After rallying late on Sunday to beat the Braves 5-2, the Astros continued to heat up. Alex Bregman had a two-run single in the ninth, and now has 500 career RBIs
Yordan Alvarez added two RBIs and Kyle Tucker had two hits. Alvarez and Tucker are picking up the slack as Jose Abreu, hitting .250 without a home run in his first season with the organization, looks to get going.
"He's a guy I've had the opportunity to play with since we were in the minor leagues," Alvarez said of Tucker. "Every single day he's just growing more and more. Just seeing him grow as a hitter and out there in the field, he's great at everything -- stealing bases, hitting."
--Field Level Media