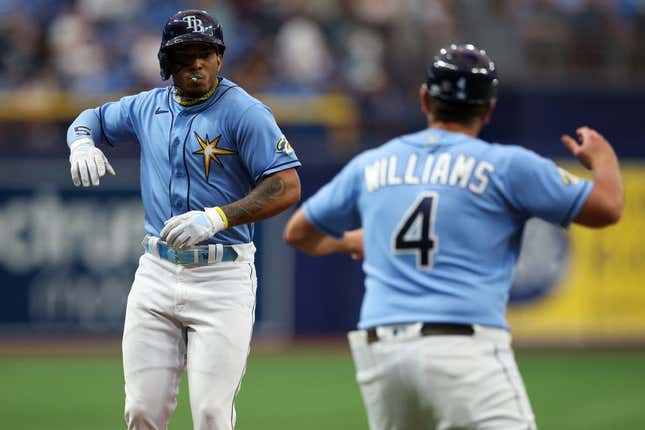 The Tampa Bay Rays opened eyes all over baseball with their record start, but things are about to get a bit tougher for the club that has outscored opponents 75-18 through its first nine games
Chris Paul should ride the bench next season | Keep it a Buck(et)
The American League East rival Boston Red Sox open will open a four-game series in St. Petersburg, Fla
"It's going to get harder," Tampa Bay manager Kevin Cash told WDAE radio on Sunday after the Rays improved to 9-0 with an 11-0 victory over the Oakland Athletics. "It has to get harder -- this is baseball
"But everything is clicking now -- the pitching, the defense, and the offense certainly did their part," Cash said. "I'm just going to stay out of the way and let them play."
The nine wins matched the mark of the 2003 Kansas City Royals for the hottest streak to open a season during the wild-card era (since 1995).
The Rays' start has been something to behold, even if it must be tempered by the quality of Tampa Bay's opposition. Tampa Bay opposed the Detroit Tigers, Washington Nationals and the Athletics, teams that mustered a combined winning percentage of .372 last season
The Red Sox, though, ought to be a tougher proposition. Boston moved to 5-4 on the season by beating the host Detroit Tigers 4-1 on Sunday to complete a three-game sweep
Left-hander Jalen Beeks (0-0, 3.00 ERA) takes the mound for Tampa Bay on Monday as the Rays go to the opener strategy they've deployed frequently over the past few seasons
Right-hander Nick Pivetta (0-1, 1.80 ERA) will start for the Red Sox after giving up three runs, one earned, in five innings in his first outing of the season on Tuesday against the Pittsburgh Pirates
The Red Sox won the last three games of 2022 at home against the Rays but still finished the season with a 7-12 record against Tampa Bay
Boston manager Alex Cora told NESN after the Sunday victory in Detroit, "It feels good. It gave us what we needed. It was a hard-fought series, the starters did what we asked them to do, and they did an amazing job. Now we just gotta go to Tampa and play good baseball."
With the way the Rays are playing, though, good baseball may not be good enough
The Rays have hit a major-league-high 24 home runs, a larger total than the number of runs allowed by their own pitching staff (18) over the nine-game rampage. Nine different Tampa Bay players have gone deep at least twice
"It's something that's intangible out there. You look at our lineup and you see that hitting is contagious," said second baseman Brandon Lowe, whose grand slam was one of the Rays' three homers on Sunday. "We feel like everyone who comes up right now is going to do some damage.
The Rays also are within striking distance of the longest winning streak in club history, a 12-game stretch in June 2004
--Field Level Media