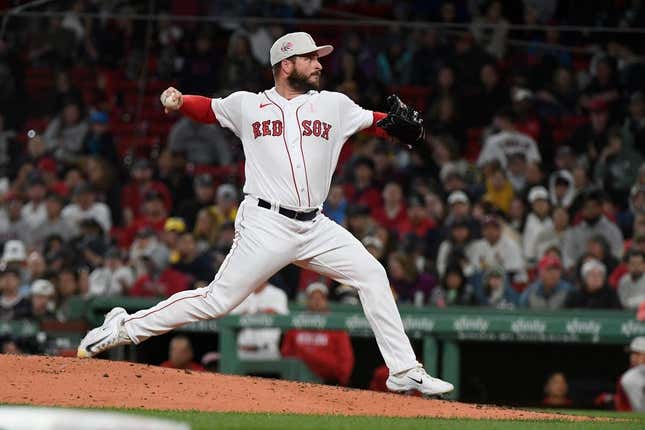 Boston Red Sox right-hander Ryan Brasier officially was designated for assignment Monday while left-hander Joely Rodriguez was activated from the injured list
Bass' ERA stinks, but not compared to who he is off the mound | Worst of the Week Countdown
Brasier, 35, had a 7.29 ERA in 20 relief appearances for the Red Sox this season. He pitched the last six seasons in Boston after seven appearances for the Los Angeles Angels in 2013 and is 7-8 in his career with a 4.45 ERA in 229 appearances (one start)
Expected to become a free agent when he clears waivers, if he isn't traded first, Brasier's departure will leave just two Red Sox players from the 2018 World Series championship team: left-hander Chris Sale and third baseman Rafael Devers
In his last outing with the Red Sox on Sunday against the St. Louis Cardinals, Brasier gave up three runs on four hits over 2 1/3 innings
"Honestly, a new start might not be bad," Brasier told reporters Sunday when news of his pending DFA was first reported. "Obviously getting to play at Fenway every day is a dream come true. Two parks you want to play at growing up are Yankee Stadium and Fenway. And I got to do both a lot. So grateful. It sucks obviously but new start."
Rodriguez, 31, signed a one-year deal with the Red Sox in the offseason but opened the campaign on the injured list with an oblique strain. He will enter off five rehab outings when he gave up one run
In five major league seasons with the Philadelphia Phillies, Texas Rangers, New York Yankees and New York Mets, Rodriguez is 5-9 with a 4.56 ERA in 157 relief appearances. He was 2-4 with a 4.47 ERA in 55 appearances for the Mets last season.
--Field Level Media