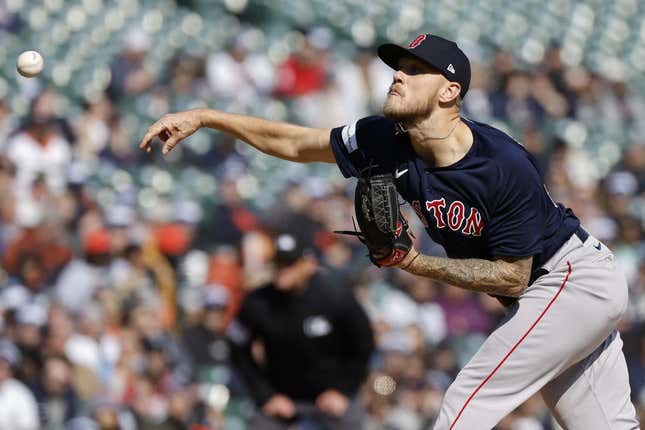 The Boston Red Sox had a series to forget against Tampa Bay
After getting swept in four games by the undefeated Rays in St. Petersburg, Fla., the Red Sox are happy to return home Friday night to open their second homestand of the season, this time against the Los Angeles Angels
Does Jimmy Butler have the best NBA Finals origin story? | Agree to Disagree
"Less than ideal," Boston right-hander Corey Kluber said of the series in Florida, which concluded with a 9-3 loss on Thursday. "Got another series starting (Friday) and have an opportunity to turn it around."
The upcoming four-game set against the Angels runs through Monday, when the teams will meet at 11:10 a.m. ET in the traditional Patriots' Day game at Fenway Park
Boston's early-season slate has been full of highs and lows, but two of the highs have come with their Friday starter on the mound. Tanner Houck (2-0, 4.50 ERA) beat the Baltimore Orioles and the Detroit Tigers in his previous outings. He is 1-1 with a 14.54 ERA against the Angels in two career starts, both in relief last year
Since scoring nine runs in each of the three games in a season-opening set against Baltimore, the Red Sox have been involved in three consecutive sweeps. Two of those have gone in the wrong direction
On Thursday, Boston's Rob Refsnyder hit a first-inning home run and Justin Turner went 2-for-4 with a double, an RBI and a run, but the Red Sox were held to four hits
"(Tampa Bay) is a place that obviously we want to come in here and win, right? They play in our division and we haven't done that," Boston manager Alex Cora said. "Just got to be ready for (Friday). That's the most important thing. ... When we come back (in September), we've got to win games."
The Red Sox will look to bounce back against a team they beat in four of seven meetings last season
After hosting the Washington Nationals this week and finishing the series with 2-0 and 3-2 wins, the Angels will aim for a third consecutive triumph as Patrick Sandoval (1-0, 1.64 ERA) takes the mound in Boston. He has opposed the Red Sox only once in his career, when he gave up four runs in 4 2/3 innings on Aug. 11, 2019
Sandoval will be the first of three consecutive left-handers to start for Los Angeles to begin the series.
Sandoval has allowed just one earned run in each of his first two starts, the latest of which was a six-inning no-decision against the Toronto Blue Jays last Friday.
"I battled a lot," Sandoval said of that outing. "They put some good swings on some balls. We made some good plays. Glad I was able to get through six."
With a stalwart outfield of Taylor Ward, Mike Trout and Hunter Renfroe, Brett Phillips did not get his first chance to play until Wednesday afternoon.
He delivered.
In the Angels' 3-2 win, Phillips drove home the tying run with a walk, scored another and stole a pair of bases to spark the offense from the No. 9 hole
"When it's my turn to play, things can't skip a beat," Phillips said. "We got the best lineup in the game. So for myself, it's just a matter of putting together good ABs, taking some walks, not trying to do too much."
Shohei Ohtani, who got Wednesday off from his lineup duty following a 92-pitch outing the previous day, will start Monday's series finale.
"I thought this would be a good time for him to get two days off his feet and he completely agreed," Angels manager Phil Nevin said
The Angels were off Thursday as they made the cross-country journey for a seven-game trip that will conclude with three games against the New York Yankees
--Field Level Media