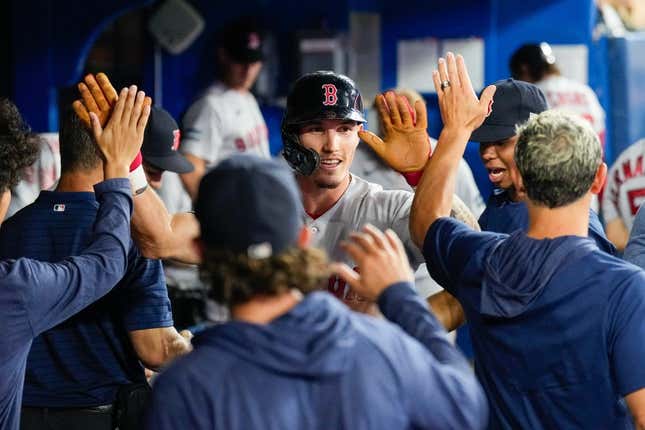 The Boston Red Sox have clicked on all cylinders over their first two games against the Oakland Athletics this weekend
How running an NFL team is like running a restaurant | Chef Emeril Lagasse
Entering Sunday's series and unofficial first-half finale, Boston has won four straight games and seven out of eight, while scoring 27 runs in just the last three games.
The Red Sox have put together seven consecutive games with at least 10 hits after pounding out 15 in Saturday's 10-3 triumph
Jarren Duran went 3-for-5 with a double, home run, three RBIs and three runs to lead the way. It was his sixth three-hit game of the season and extended his hitting streak to five games.
"Man, he's on fire," James Paxton, Saturday's starting pitcher for the Red Sox, said of Duran. "It's fun to watch. You know, he's such an athletic guy, and so many tools on the field. He's an exciting player, and I'm glad he's on our team.
Boston's recent success has hardly been a one-man effort. Justin Turner has also been on a hot streak with at least one RBI in eight straight games.
Nonetheless, Red Sox manager Alex Cora knows how crucial Duran's surge has been
"We know about Alex (Verdugo). We know about (Masataka) Yoshida. We know about the power of (Adam) Duvall," Cora said. "But when we talk about Jarren, give credit to the front office. They stuck with the kid, and we have found ways to play him. He's been very dynamic."
Cora is expected to use Tayler Scott (0-0, 7.71 ERA) as an opener less than a week after his Red Sox debut. He was acquired from the Dodgers in a trade late last month. While with the Seattle Mariners in 2019, Scott made one relief appearance against the Athletics, surrendering two unearned runs over two innings
Left-hander JP Sears (1-6, 4.09) is scheduled to make his team-leading 18th start for the Athletics, making him their only pitcher to remain in the rotation all season
"One of the goals was just to be available every fifth day -- give my team 30 starts by the end of the year," Sears said. "Hopefully, I can just keep it up. Stay on top of my routine and stay healthy so we can be there by the end of the year."
Sears has allowed two or fewer runs in six of his last eight starts, including Tuesday in Detroit. He worked 7 1/3 shutout innings and allowed just five hits while striking out four in Oakland's 1-0 win. It was the longest start of his career in the majors.
"Probably the best start of the year for us by a starter," A's manager Mark Kotsay said, calling that outing "the definition of how to pitch. He used his weapons. Kept the ball out of the middle of the plate."
In his first career start against Boston, Sears will look to break the A's out of a 6-16 drought. They allowed nine extra-base hits Saturday and have won just four road series all season.
Brent Rooker and Manny Pina homered Saturday against Paxton.
--Field Level Media