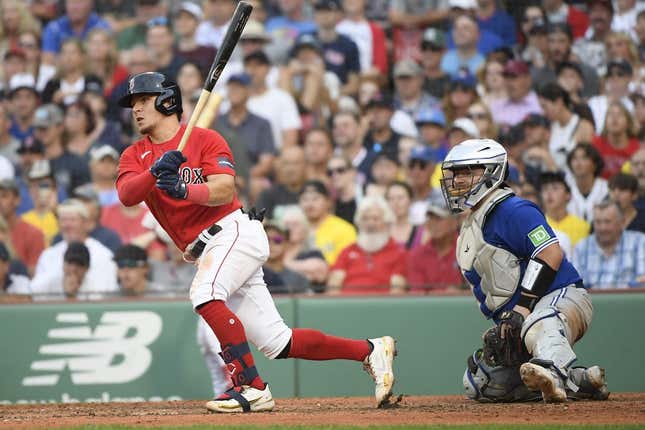 The Boston Red Sox will try to put a bad day behind them and salvage the finale of a three-game series with the visiting Toronto Blue Jays on Sunday afternoon
How running an NFL team is like running a restaurant | Chef Emeril Lagasse
Boston's bad day started when outfielder Alex Verdugo was scratched from the lineup with no explanation. Neither Red Sox manager Alex Cora nor Verdugo, who never got into the game, commented on the reason
The day ended when Reese McGuire, who had singled as a pinch hitter, was doubled off second base after a flyout to the wall in left-center field to cut a ninth-inning rally short in the Blue Jays' 5-4 victory
"This is probably one of my worst days here in this organization," Cora said after the game
He said that Verdugo's benching was a "manager's decision.
"I'm just taking care of the 26 guys (on the roster), and he wasn't gonna play," Cora said
Cora has benched Verdugo for a lack of hustle in the past
"That was a different situation," Cora said. "I think (Saturday), we took a step back as a team. We have to make sure everybody's available every single day here for us to get to wherever we're going to go. And that wasn't the case. And as a manager, I've got to take charge of this, and I decided he wasn't going to play.
"Just a manager's decision," Verdugo said. "We're gonna leave it at that.
When asked if he arrived to Fenway Park on time on Saturday, Verdugo said he did
The Red Sox won the first seven meetings with the Blue Jays this season and now have lost two straight to a team they are chasing for an American League wild-card spot
Toronto is scheduled to start right-hander Chris Bassitt (10-6, 4.00 ERA) on Sunday. Bassitt has faced the Red Sox once in his career, in 2021, when he allowed two runs and three hits with 10 strikeouts in seven innings
The Red Sox are expected to start left-hander Brennan Bernardino (1-1, 2.72). Bernardino, who will be making his sixth start of the season, is 0-1 with a 4.91 ERA in four relief appearances against Toronto in his career
McGuire's baserunning mistake allowed Erik Swanson to earn his fourth save
"With the way the ball's been flying the last two days, you think that's off the wall at the very least," Blue Jays manager John Schneider said. "But you never underestimate the power of (center fielder) Kevin Kiermaier in the outfield. So, you take advantage of a baserunning mishap by Reese. Definitely wasn't easy. A little stressful.
Toronto's George Springer, who ended an 0-for-35 drought recently, had four hits and a walk on Saturday
Davis Schneider, who homered in his first major league at-bat on Friday in a two-hit debut, added three hits and a walk for Toronto on Saturday
"He's thinking right now the big leagues (are) way easier than Triple-A. But his name is officially changed to Babe Schneider," said Brandon Belt, who had a solo home run and an RBI single on Saturday. "He's been unbelievable for us so far. I think that's a reason we've won these last two games. He's provided some energy that was maybe lacking the last series. It's been a lot of fun to watch him play.
--Field Level Medi