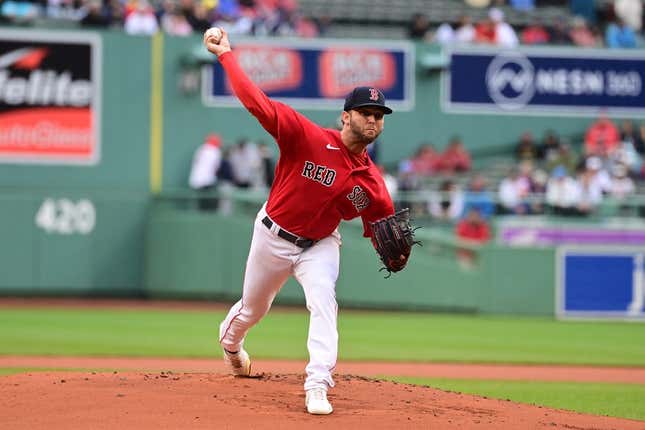 The Boston Red Sox received strong outings from three of their young starting pitchers against the New York Yankees over the weekend, and they will look for that trend to continue when they send 27-year-old Kutter Crawford to the mound on Tuesday for the second game of a three-game series against the visiting Colorado Rockies
How running an NFL team is like running a restaurant | Chef Emeril Lagasse
Colorado took the rain-delayed series opener 4-3 in 10 innings on Monday.
Garrett Whitlock, Tanner Houck and Brayan Bello limited the Yankees to six runs (five earned) in 19 1/3 innings to help the Red Sox win two of their three games against New York. Whitlock, the oldest of the three, turned 27 Sunday. All three pitchers went at least six innings against the Yankees and allowed no more than two runs
"To come here with those three kids and pitch the way they did, hopefully we can build off of this," Red Sox manager Alex Cora said following Boston's 3-2 victory over New York on Sunday night. "That was really good by Whit, by Tanner and by Bello. That was impressive
"Obviously we need to pitch to get back (into contention). The offense is going to be OK. It's just a matter of time to get good at-bats and get people healthy."
The growth of Boston's young starters took on added importance after the Red Sox moved veteran left-hander Chris Sale to the 60-day injured list on Friday. Sale sustained a stress reaction in his left shoulder blade while pitching against the Cincinnati Reds on June 1
Crawford (1-3, 3.68 ERA) took Sale's spot in the rotation on Wednesday, when he threw three-plus innings and allowed three runs (two earned) on five hits in a 5-2 loss to the Cleveland Guardians. Tuesday's game will be the first time Crawford has pitched against Colorado during his career.
Right-hander Chase Anderson (0-0, 2.25 ERA) is scheduled to start for the Rockies. Colorado claimed Anderson off waivers after Tampa Bay designated him for assignment on May 10
Anderson has made six career appearances (five starts) against Boston and is 1-0 with a 6.35 ERA. He will be facing a Red Sox team that has failed to put more than three runs in nine of its past 10 games. Boston has a 3-7 record in that span
The Red Sox made two errors in the Monday night loss, each of which allowed the Rockies to score a run
"Not a good game, we made two errors and the (10th-inning, bases-loaded) walk," Cora said. "Frustrating. We don't make plays and they score runs."
Colorado will be seeking its third straight victory. The Rockies ended a six-game losing streak by beating the San Diego Padres 5-4 on Sunday, then scored the tying run in the eighth inning on Monday against the Red Sox before prevailing in the 10th
Rockies reliever Daniel Bard earned the win in his first game back at Boston since he pitched for the Red Sox from 2009-13
"There were a lot more good memories than negative, so that's where my mind is at -- just enjoying it," Bard said, according to MLB.com.
Tuesday's contest will be the second game of a 10-game road trip for the Rockies. Boston opened a six-game homestand on Monday
--Field Level Media