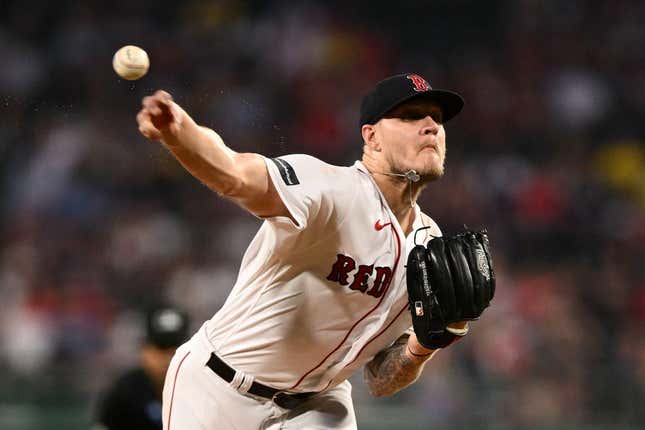 The four-game series between the Boston Red Sox and the visiting New York Yankees this week is a battle between the bottom two teams in the American League East — not the normal spot for two perennial contenders.
Is Texas or Florida State a bigger national title contender? | Agree to Disagree
After being swept in a day-night doubleheader on Tuesday to begin the set, Boston will look to grab a win Wednesday to avoid falling into last place in the division. Both teams are currently 73-72.
"Tough season for both of us, let's be honest," Red Sox manager Alex Cora said. "They've had their things, and with us, I know before the season not too many people thought we were going to be in the playoff hunt, but we believed. Things haven't gone our way."
Things sure did not go Boston's way on Tuesday, as the Red Sox went 0-for-19 with runners in scoring position and were held to three runs on 13 hits over the two games.
The Yankees won the first game 3-2 and the nightcap 4-1.
Among the few highlights of the twin bill for Boston was the continued emergence of rookie Ceddanne Rafaela, who hit his first career homer in the second game.
Rafaela, 22, started at shortstop in Game 1 and in center field in Game 2. According to Elias Sports Bureau, only one player in Red Sox history (Felix Mantilla in 1964) did that previously in a doubleheader.
In addition to improved plate discipline, "the fact that he can be versatile (opens up multiple possibilities)," Cora said of Rafaela. "Versatility is a big part of this game. It helps your roster. He's a good defender at short, at center field and other positions."
Boston right-hander Tanner Houck (4-9, 5.28 ERA) is scheduled to start on Wednesday. He allowed five runs in 5 1/3 innings on Friday against the Baltimore Orioles while marking his fourth appearance since returning from a facial fracture that kept him off the field for more than two months.
Houck has enjoyed success against the Yankees in his career, going 2-2 with a 2.39 ERA and 33 strikeouts in 37 2/3 innings over 11 games (six starts). This year, he has no decisions and a 2.70 ERA two starts vs. New York.
After its first doubleheader sweep at Fenway Park in 17 years, New York is 11-4 over its past 15 games. The Yankees broke a seven-game head-to-head skid against Boston.
The Game 2 win was Aaron Boone's 500th as Yankees manager.
New York was successful in key situations on Tuesday. Gleyber Torres' go-ahead, two-run single in the sixth inning was one of only five Yankees hits in the opener.
In the nightcap, the Yankees scored two runs in the ninth to clinch the win.
"The end of the season is about having the discipline to go out there and still be at your sharpest and put your best foot forward," said catcher Kyle Higashioka, who went 3-for-4 in Game 1. "At this point, we've got to show some character and finish strong, no matter what the circumstances are."
Clarke Schmidt (9-8, 4.54 ERA) will start for the Yankees on Wednesday. He was originally set to pitch Monday before the start of the series was delayed due to rain.
Schmidt earned a victory on Sept. 6 against the Detroit Tigers, striking out six over 6 1/3 innings of three-run ball. The 27-year-old right-hander has allowed three or fewer runs in all but one of his past 19 starts while working at least five innings 16 times during that span.
"On the whole, he's just gotten to be a much better pitcher, more polished pitcher," Boone said last week. "I think he's proven that he can be a starter in this league. I think he's really got a grasp of his arsenal and how to use it and where to use it."
Schmidt is 0-1 with a 4.03 ERA in seven appearances (three starts) against the Red Sox in his career. In three starts vs. Boston this year, he has no decisions and a 2.87 ERA.
—Field Level Media