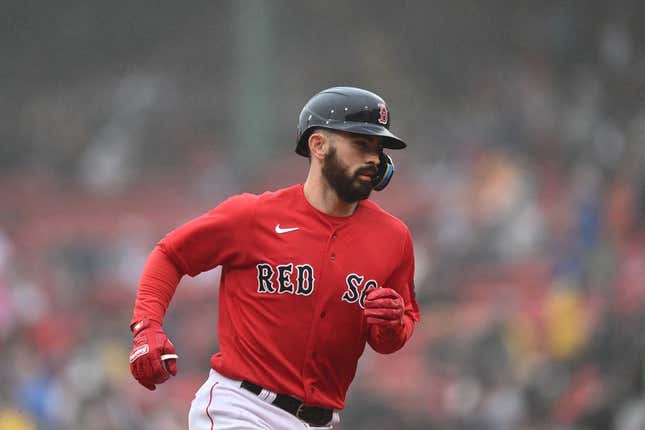 With a third consecutive home series win under their belts, the Boston Red Sox turn their attention to the challenge of an American League East opponent
'Soccer fandom is full of gatekeepers' says Ted Lasso actor Brendan Hunt
The Toronto Blue Jays, who had won six straight games prior to Sunday, visit Boston to start a four-game series on Monday night
"They're good at what they do," Red Sox manager Alex Cora said of the Blue Jays. "They've been doing it the last two years. We've got to be ready.
Toronto won 16 of the 19 head-to-head meetings last season, including the last nine. Included was a 28-5 walloping on July 22.
The Boston offense has scored 15 runs over the past two games -- including Sunday's 7-1 win over the Cleveland Guardians -- after combining for four in the two before that.
On Sunday, Connor Wong and Alex Verdugo both homered and had two hits, while Jarren Duran added his ninth double in 13 games since making his season debut on April 17.
"I mean, it gives you confidence that you don't have to try to do too much at the plate, and you can keep it simple and good things will happen," said Wong, who has reached base in nine of his last 19 plate appearances.
After Chris Sale allowed just one run on three hits in 6 1/3 innings on Sunday, Boston is 5-0 when its starting pitcher completes six frames.
Corey Kluber (1-4, 6.75 ERA) will look to continue that trend in Monday's start after allowing just one run on five hits in six innings on Tuesday at Baltimore.
Kluber had lost seven consecutive decisions going back to last Sept. 10 prior to his last start. He has a 2-5 record and 5.07 ERA in 11 career starts against Toronto, and he has lost his last five.
"This guy, been there, done that," Cora said of Kluber after his last start. "He's been hit around, made adjustments. Good one for him."
Despite leading 8-5 after seven innings in Toronto, the Blue Jays lost 10-8 to Seattle in 10 innings on Sunday before making their first trip to Boston this season
"Just one of those days," Chris Bassitt said after giving up four runs in five innings. "The guys have been playing pretty well, (but) yeah, things happen. It's baseball. I wish everything could go perfect, but it's a beautiful game."
Jose Berrios (2-3, 4.71) will start on Monday after a sparkling seven-inning start on Tuesday against the White Sox. He struck out nine while allowing four hits, one walk and no runs.
Berrios has surrendered just three runs over his last three starts after giving up eight and four earned runs, respectively, in his first two outings.
Berrios did not allow more than two runs in any of his three starts against the Red Sox last season, each spanning at least six innings
"He's a competent dude right now, and he just executed," Toronto manager John Schneider said of Berrios. "I think the work he put in (during) the offseason really put him in a good state of mind coming into spring training, and it was only a matter of time before he got back on track."
Toronto third baseman Matt Chapman leads the AL in batting average (.384) and both leagues in extra-base hits at 20. He went 3-for-5 with two doubles on Sunday.
Bo Bichette also hit his sixth homer of the season and has 10 multi-hit games.
Despite Sunday's loss, Toronto outscored the Chicago White Sox and Mariners 32-14 during its six-game homestand.
--Field Level Media