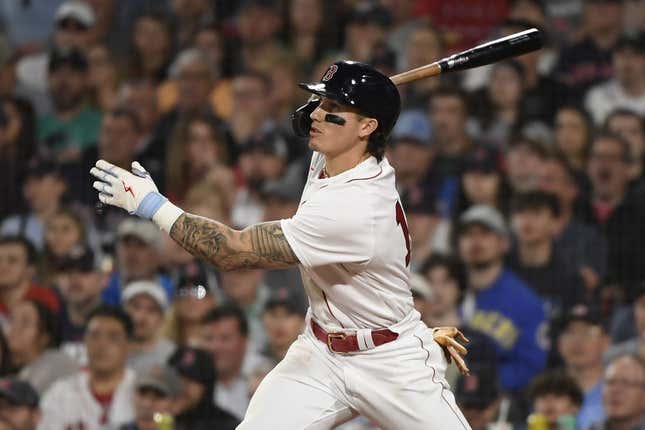 It has been a tale of two games for the Boston Red Sox against the Seattle Mariners this week
Watch Greg Hardy go night-night | The SEO Show
After being held to a single run in Monday's series opener, the Red Sox used three home runs and 11 hits Tuesday to post a 9-4 win and set up the rubber game in the three-game set on Wednesday night in Boston
The Red Sox, who were on a four-game losing streak before Tuesday, previously had gone three straight games without a homer
Justin Turner, Triston Casas and Jarren Duran all cleared the fences in Tuesday's game, which began with three runs scoring before an out was recorded in the first inning against Seattle starter Luis Castillo.
"We haven't hit the ball out of the park the last seven days or so, but first things first, (Alex Verdugo) put the pressure on the opposition right away and set the tempo of the game," Red Sox manager Alex Cora said. "We had some good at-bats. He's a good pitcher.
Verdugo finished 2-for-4 and scored three runs.
Red Sox right-hander Brayan Bello (2-1, 5.01 ERA) will look for his third straight win on Wednesday after he held the Braves to two runs on six hits in a six-inning start last Wednesday in Atlanta. He pitched five scoreless frames before giving up both runs in the sixth
Bello, who has yet to face Seattle in his young career, recorded five strikeouts and allowed two earned runs in each of his past two outings.
After giving up eight runs in his first two starts (7 1/3 total innings) this season, he has bounced back to allow only five runs over his past three outings (16 innings).
"You're building confidence as you go, and as the season goes, you build more confidence and your body gets looser. So does your mind," Bello said. "That helps, to see good results."
Despite Tuesday's loss, Seattle is 10-5 in its past 15 games and 7-2 in a nine-game road span.
The Mariners, playing .500 ball at 21-21, are looking for more consistency at the plate. It has not come in this series
Seattle was held to eight hits Tuesday after getting 15 in the series opener.
"The reason we didn't win a lot of close games, we didn't get the big hit," Seattle manager Scott Servais said. "We weren't scoring any runs. So hopefully the offense starts to be more consistent."
On Wednesday, the Mariners will give the ball to southpaw Marco Gonzales (3-0, 4.42), who pitched six two-run innings for a Friday win at Detroit
Gonzales is 1-2 with a 5.26 ERA in five career starts against Boston. The win came in 2019. Most recently, he allowed two hits and two runs in 4 1/3 innings on June 10, 2022.
Castillo had a rare off night for a Seattle starting pitcher on Tuesday, giving up the three homers and seven runs (five earned) in five innings.
Servais is confident that continued strong work on the mound will lead to more wins.
"As long as we continue to pitch like we can, we're going to be in a lot of these games," he said. "I think we're a better team now than we were last year on paper. We've not done it yet, but the upside of this group is pretty high."
--Field Level Media