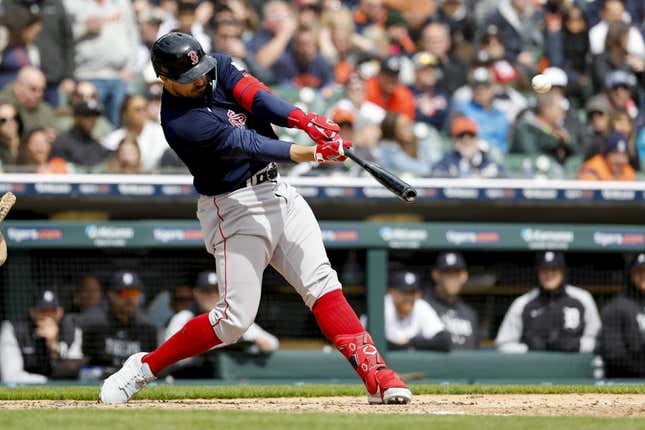 The Boston Red Sox snapped a three-game losing streak and spoiled Detroit Tigers' home opener in the process on Thursday
Can the Florida Panthers make a comeback? | Agree to Disagree
They'll meet up again in the second game of a three-game series on Saturday afternoon.
Boston used the long ball to erase a 3-1 deficit, as Rafael Devers had a solo homer and an RBI double and Adam Duvall blasted a go-ahead, three-run homer for a 6-3 victory.
Duvall has been red hot, piling up three homers and 12 RBIs while batting .458 through the first week of the season.
"He's been good for us," manager Alex Cora said. "He's a good defender. He understands what he's trying to accomplish now, he's understanding his swing. He's off to a great start."
Devers had gone hitless in his last 12 official at-bats before delivering two extra-base rockets.
"I've said it for years, I've said it in spring training, I'll continue to say it. Our offense just doesn't let up," said winning pitcher Chris Sale (1-0). "It doesn't matter if they have a bad day, a good day, you never know. Anything can happen at any time. They stepped up again today. They swung the bats incredible. A couple big homers and we come out with the win."
Another pleasant sight for Boston was Kenley Jansen's ninth-inning save, his first in a Red Sox uniform
Jansen kept a souvenir after notching the last three outs.
"That's the one thing that I can remember when I'm done playing," Jansen said. "I can look back and (see) my first save as a Red Sox. Just walk in your house, grab the ball and hold it. It will bring back memories. That's why I wanted to keep that one, that first one. It's great to have it.
Tanner Houck (1-0, 5.40 ERA) will start for the Red Sox on Saturday. He gave up three runs and five hits in five innings while striking out five against Baltimore in his season debut on Sunday. Detroit will counter with left-hander Joey Wentz (0-1, 5.06), who allowed three runs and four hits in 5 1/3 innings at Tampa Bay on the same afternoon
"I felt like I executed some pitches and I thought I competed well," Wentz said. "Unfortunately, (Randy) Arozarena hit that bomb and I gave up two more after that. But I felt like I did some good stuff."
The Tigers have lost two straight after collecting their first two victories of the season in Houston. They were disappointed they couldn't generate more offense before their large Opening Day crowd
"I was super excited," center fielder Riley Greene said. "I heard a lot of things from some of the guys, like, 'Hey, it's gonna be packed.' It made me super excited and I was looking forward to it a lot. The fans showed up. We couldn't get the win. They'll show up on Saturday, and we'll play hard."
Greene is off to a good start with a .296 batting average and five runs in seven games. Catcher Jake Rogers hit his second homer of the season on Thursday, a two-run shot.
Miguel Cabrera, who is retiring after the season, had an RBI single in the series opener.
"I appreciate this moment because not too many guys in baseball get a chance to say goodbye," Cabrera said. "I'm not sad. I'm happy."
--Field Level Media