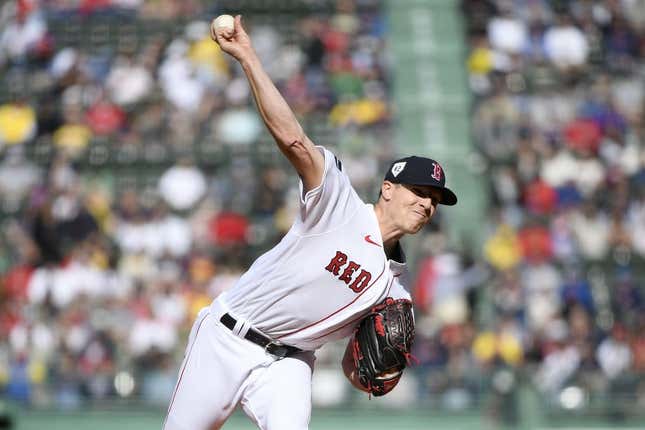 Sitting at .500 after a stretch of 19 games in 19 days, the Boston Red Sox have plenty of work to do to climb the ultra-competitive American League East standings
Chris Paul should ride the bench next season | Keep it a Buck(et)
Following its first off day since April 7, Boston begins a seven-game homestand with Friday's first of three weekend contests against the Cleveland Guardians
The Red Sox entered Thursday at the bottom of the division -- 7 1/2 games behind first-place Tampa Bay -- with their 13-13 record. They are a half-game better than Cleveland (12-13), which trails only Minnesota in the AL Central
"We're battling, and I know there's good stretches that are going to come," third baseman Rafael Devers said via a translator. "We're going to get better as time goes because we're going to recover some guys that are down on the injured list, and the help we're getting from Triple-A is very good."
Despite falling 6-2 Wednesday and losing a three-game series in Baltimore, Boston is 8-5 in its last 13 games after starting 5-8.
Masataka Yoshida seems to have adjusted in his new home after an 11-for-23 trip to Milwaukee and Baltimore, while Jarren Duran is much improved from his rookie season. The Red Sox, however, have seen their middle infield depth tested due to multiple injuries
They have shown resilience through it all, earning nine of their 13 wins in comeback fashion.
"They don't get caught up in the ups and downs," manager Alex Cora said. "We lost four to Tampa and we move on. We lost three to Pittsburgh and we move on. It's still early to really tell you who we are, but like I always say, we've got a good team. We just have to be better."
Right-hander Nick Pivetta (1-1, 4.58 ERA) looks to maintain his consistency on the mound. He has thrown at least five innings in three of his first four starts this season, including Friday when he allowed three earned runs in 5 2/3 at Milwaukee.
The Red Sox won Pivetta's first two career starts against Cleveland last season, allowing only three earned runs in 12 2/3 innings combined
The Guardians beat Colorado 4-1 Wednesday for just their third win in 10 games. The victory concluded a 2-4 homestand for the club led by former Red Sox skipper Terry Francona
That recent stretch has included the MLB debuts of both Logan Allen and Tanner Bibee, who made great first impressions with eight strikeouts apiece.
Right-hander Shane Bieber (1-1, 3.23) gets the ball in Boston for the first time since 2019. He is 2-2 with a 5.18 ERA in four career starts against the Red Sox
Through five starts this season, Bieber has worked at least six complete innings in all but the last one. He lost to Miami on Saturday after allowing three runs on four hits and four walks in 5 2/3 frames.
"I don't know the last time I had that many walks," Bieber said. "I had some 50/50 shots, and it seems like when you really need them, they maybe don't go your way and that's the game of baseball."
Bieber did not walk four batters in any start last season.
The wins have not come of late largely due to a struggling offense. Cleveland scored just 15 runs over its last six games, though outfielder Steven Kwan reached base at a .370 clip during that span.
"You get in modes where you try to get yourself going," Francona said. "You start swinging at everything. We're going to have to be more disciplined. ... It's easier said than done, but we're going to have to get better."
--Field Level Media