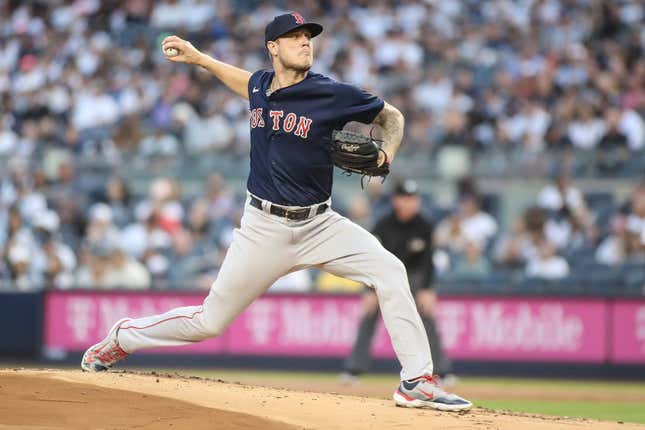 Halfway through June, the New York Yankees are set for their first trip to Boston this season
How running an NFL team is like running a restaurant | Chef Emeril Lagasse
The historic rivals and American League East division mates will begin a three-game series Friday night at Fenway Park. It is also their second meeting in as many weekends after the Red Sox took two of three in New York
Boston came from behind to salvage Wednesday's series finale against Colorado after dropping the previous two games in 10 innings. Even though the Red Sox are just 4-8 in their past 12 games, there have been positive signs of late
"We didn't play badly against (Colorado). Two extra-inning games, and that's part of it," Boston manager Alex Cora said. "If you look at the last five or six games here at home, they've been close. Obviously, we want to play better but (one win) really doesn't matter."
Red Sox starting pitchers have allowed two earned runs or fewer in 19 of the past 26 games. Garrett Whitlock pitched seven innings of two-run ball Wednesday, and now Tanner Houck (3-6, 5.23 ERA) will try to put forth a similar effort in his sixth career start against the Yankees
Houck is 2-2 with a 2.41 ERA in 33 2/3 innings over 10 appearances (five starts) in his career against the Yankees
Houck has pitched at least five innings in 10 of his 12 starts this season. Last Saturday, New York managed only two solo home runs and three total hits off Houck in six complete frames.
"It's continuing to develop," Houck said of his ability to navigate a lineup several times in order to go deeper in games. "Continuing to work, continuing to make the right adjustments after something like that happens and bringing it back in."
The Yankees, who are 5-7 in their past 12, travel to Boston after splitting a pair of one-run Subway Series contests against the Mets
Manager Aaron Boone knows his club will be ready for another fun series in Boston, especially with the division in such a competitive state this season. The Red Sox remain last in the standings despite being just one game under .500
"I've gotten to experience it quite a bit now as a player and as a manager. You feel fortunate to be a part of such a historic sports rivalry," Boone said. "The AL East is always good, but it's really good now. We're playing in the SEC right now. We've developed really strong rivalries with every team, but the Red Sox are right in that mix.
Friday will mark the Fenway debut of Anthony Volpe, the Yankees' No. 1 prospect entering this season who is set to play in his 70th career MLB game
Playing the Red Sox is a lifetime thrill for the New York City-born shortstop
"When I would hit with my dad in the cage and stuff, we would always pretend it was Yankees versus Red Sox," Volpe told Newsday last week. "We would have different scenarios like that. As a Yankee fan, and as a Yankee now, a player, it's what you want to be a part of.
Domingo German (4-3, 3.49) will toe the rubber first for New York this weekend after pitching six innings of one-run ball Saturday in what was the Yankees' lone win of the last Boston series. It was his first victory against the Red Sox since Aug. 3, 2019; in 13 games (11 starts) against the Red Sox, German is 3-2 with a 3.64 ERA
German has worked at least six frames in his past three outings while allowing two or fewer runs in six of his last seven.
--Field Level Media