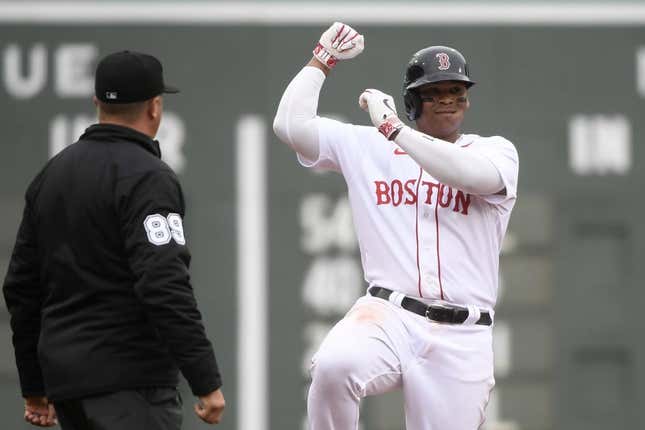 The Boston Red Sox open the second leg of a seven-game homestand with a visit from the American League Central-leading Minnesota Twins on Tuesday for the opener of a three-game series
Air Jordans are more American than McDonald's French fries | Deon Cole's Ultimate Sports Fantasy
Boston hopes a better start is in the cards after allowing four first-inning runs in a 5-4 loss to the Los Angeles Angels on Monday. The Red Sox are tied with the Toronto Blue Jays for most runs allowed in the opening frame this season with 23
Despite that fact, 13 of Boston's first 17 games have still been decided by three or fewer runs.
"We've got to be better on that," Red Sox manager Alex Cora said of the shaky starts. "As far as the team and what we're trying to accomplish, we're going to play 27 outs and we've been showing that.
With Brayan Bello activated from the injured list to start on Monday, Chris Sale had his turn pushed to Tuesday as the Red Sox will work with a six-man rotation until their next off day on April 27
Sale (1-1, 11.25 ERA) has recorded at least six strikeouts in each of his three starts this season, but he allowed six runs (five earned) over four innings on Wednesday in a loss at Tampa Bay.
"He hasn't pitched in four years, honestly. ... In (2019), he wasn't healthy," Cora said. "We'll wait until Cinco de Mayo to see where we're at."
Sale is 11-6 with a 3.91 ERA in 29 career appearances (21 starts) against Minnesota, having gone 3-0 with a 2.64 ERA in his past five starts vs. the Twins dating back to 2017
The Boston bullpen has more than made up for the starters' early-season struggles, allowing just two runs over 18 1/3 innings in the past four games. Kutter Crawford worked 6 1/3 scoreless, one-hit frames after Bello's Monday exit.
Minnesota comes to Boston following back-to-back losses to finish a four-game road set against the New York Yankees.
"This is not the same Twins team that people have seen in the last two years," Twins designated hitter Byron Buxton said, according to MLB.com. "We are making our own identity.
The Twins scored nine runs in the first inning on Thursday in an 11-2 win over the Yankees but were then held to just seven runs during the remainder of the series. They were shut out for the second time this season in the 2-0 series finale on Sunday
"We played two good games and grabbed two wins at Yankee Stadium, and we walk out splitting. It's not going to feel good," Twins manager Rocco Baldelli said. "I would call it a competitive series. Overall, the pitching was at a pretty high level.
Sonny Gray (2-0, 0.53 ERA) looks to continue his outstanding start to the season and pick up his first career win at Fenway Park, where he is 0-4 with an 8.02 ERA in six appearances (five starts).
He pitched five scoreless innings en route to a 3-1 win on Wednesday in the Twins' rubber match against the Chicago White Sox
Gray is 1-7 with a 6.80 ERA in 10 career outings (nine starts) against the Red Sox
Minnesota's Donovan Solano, who is playing first base every day with Joey Gallo out due to a right intercostal strain, is batting .366 during an 11-game hitting streak.
"If you have a bunch of guys that hit the ball on the barrel often, as often as he does, I think you're going to have a productive offense," Baldelli said.
--Field Level Media