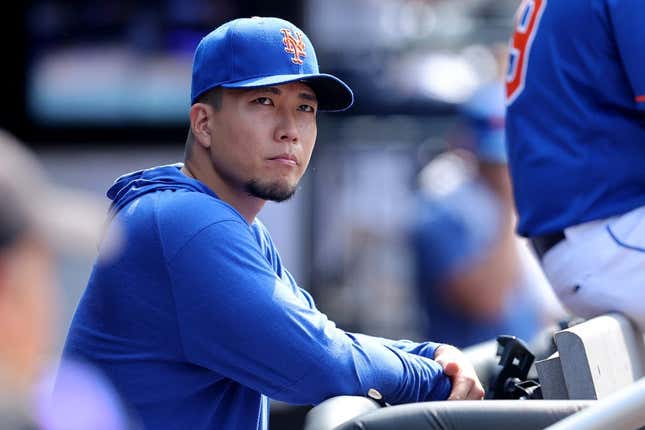 New York Mets fans may be watching the team's future ace when right-hander Kodai Senga takes the mound on Friday to open a three-game road series against the Boston Red Sox
How running an NFL team is like running a restaurant | Chef Emeril Lagasse
After pitching professionally in Japan for 11 years, the 30-year-old signed a five-year, $75 million contract with the Mets in December -- just after New York added Justin Verlander and Max Scherzer in free agency
Senga has had to adjust to the larger baseball used in the major leagues, but he has shown he has top-of-the-rotation potential.
Senga (7-5, 3.20 ERA) has recorded 122 strikeouts through his first 17 starts (95 2/3 innings) and has a 2.37 ERA in his past six outings. He will be pitching against the Red Sox for the first time
"Anybody who can strike guys out at the rate he can, that is going to play," Mets reliever Adam Ottavino said. "It's been awesome to watch, and he's a hard worker. I really believe in him.
Senga held the Los Angeles Dodgers to one run on four hits in six innings on Saturday. He struck out nine and walked just two, but things unraveled for the Mets in the late innings and the Dodgers earned a 5-1 victory
In his final start before the All-Star break, Senga struck out 12 in eight innings and allowed one run during a 2-1 victory over the Arizona Diamondbacks. That win followed two straight starts in which he failed to pitch six innings.
"I think the biggest part is I am able to play against these hitters, not just against the ball," Senga told the media through an interpreter on Saturday. "I am able to throw with more confidence. I can face them and not the ball."
The Red Sox will counter with right-hander Kutter Crawford (4-4, 3.74 ERA), who will attempt to extend Boston's five-game home winning streak. Crawford has never pitched against the Mets
Crawford pitched six scoreless innings in Boston's 11-5 victory over the Chicago Cubs on Sunday. He struck out a career-high nine batters, allowed one hit and walked four. It was the third time he pitched at least six innings this season.
New York outfielder Tommy Pham left the Mets' 6-2 loss against the White Sox on Thursday with a groin injury after he grounded into a double play in the third inning. Earlier in the day, the Mets placed outfielder Starling Marte on the injured list due to lingering effects from migraine headaches
The Red Sox are coming off back-to-back losses against the Oakland A's but are hoping their lineup will soon be bolstered by Trevor Story's return. Story has not played this year after having elbow surgery in January, but he is scheduled to play five innings at shortstop for Double-A Portland on Friday
"We're not cutting corners on the rehab," Red Sox manager Alex Cora said. "We just feel like right now is the time to go and let's see how long it takes
"It's not a one-week thing. We want him to get his feet under him and bounce back after nine innings. This is just the beginning, but it feels good knowing he's going to go out and play on Friday."
Earlier this month, Story said he hoped to be in Boston's lineup sometime in August.
--Field Level Media