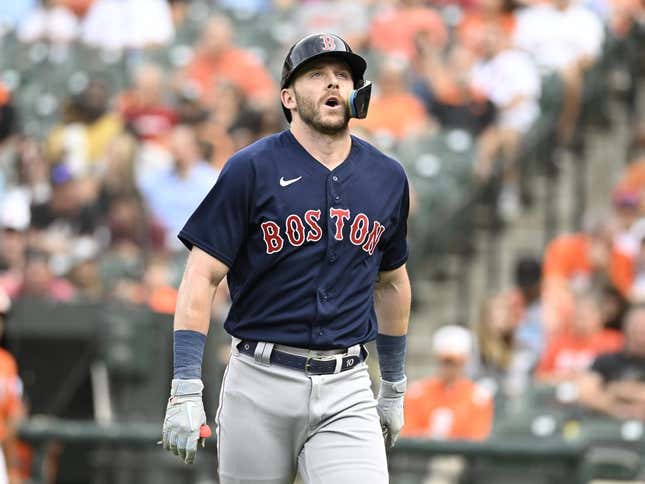 The Boston Red Sox lineup could be receiving a boost soon, as shortstop Trevor Story said Monday that he hopes to be back in action in July
Is Texas or Florida State a bigger national title contender? | Agree to Disagree
Story is currently on the 60-day injured list after undergoing an internal bracing procedure of the ulnar collateral ligament in his right elbow in January. He remains without a timetable for his return and wouldn't be ready to take the field by July, but Boston could opt to use him as a designated hitter.
"(July) is a real possibility for (designated hitter)," Story said. "I think that's as early as we've looked at it. That's obviously exciting to me. To be able to just impact the team with my bat is something I feel like I can do, so we'll make that decision soon."
From there, Story hopes to be back at shortstop a month later.
"I think the progression is kind of a moving thing based on how I feel," Story said. "I feel good about coming back to play shortstop sometime in August. I know that's what I want to do. That's my goal."
The Red Sox have seen six players take reps at short this season, including Enrique Hernandez, who has played 52 games at the position. Yu Chang (11 games), Pablo Reyes (nine), Christian Arroyo (three), Bobby Dalbec (one) and Enmanuel Valdez (one) have also spent time there
Story, 30, hit a career-low .238 with 16 homers, 66 RBIs and 13 stolen bases in 94 games last season, his first with Boston. With Xander Bogaerts at shortstop, Story shifted over to second base, where he spent all 94 of his games.
In seven major leagues seasons with the Colorado Rockies (2016-21) and Red Sox, Story is a career .268 hitter with 174 home runs, 516 RBIs and 113 steals. He is a two-time All-Star
"Arm is feeling really good and my whole body is in a great spot," Story said. "I want to get back out there as quickly as possible, but I have to respect a lot of parts of this process and make sure we do it right first."
--Field Level Media