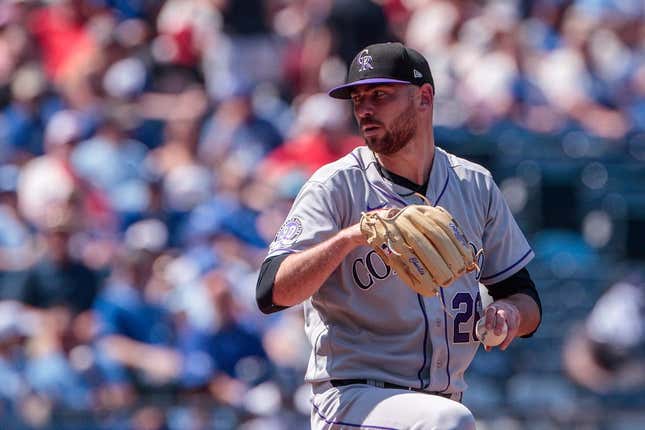 The Colorado Rockies hope left-hander Austin Gomber can improve on his recent form as they attempt to complete a three-game road sweep of the Boston Red Sox on Wednesday night
How running an NFL team is like running a restaurant | Chef Emeril Lagasse
Colorado earned 10-inning wins at Boston the past two nights, prevailing 4-3 on Monday and 7-6 on Tuesday.
The Rockies scored three runs in the top of the 10th on Tuesday, then held on despite Rafael Devers' second two-run homer of the night in the bottom of the frame to seal their third straight victory
"It was a good team win," Rockies manager Bud Black said. "A lot of guys in a lot of different spots helped out.
The Red Sox have lost their past five home games, and they are just 4-11 in their past 15 games in Boston. They have dropped five of the past seven contests overall
"Keep playing hard, clean up a few things and go from there," Red Sox manager Alex Cora said following the Tuesday defeat. "We just have to play well. That's it. Two extra-inning games, kind of a flip of the coin, right? ... From my end, it's not deflating.
Gomber (4-5, 7.57 ERA) allowed 15 runs on 25 hits in just 10 2/3 innings over his past three starts. He walked eight and struck out eight during that span.
Gomber took the loss in his latest outing after he surrendered 11 hits -- including three home runs -- and seven runs in four-plus innings during a 9-6 defeat against the San Diego Padres on Friday. All three home runs came on four-seam fastballs.
The 29-year-old Florida native, who is in his fifth major league season, has not pitched against the Red Sox
Rockies reliever Daniel Bard earned the win in each of the first two games in the series. The Red Sox selected Bard with the 28th overall pick in the 2006 draft, and he pitched for Boston from 2009-13
"We're pushing Daniel a bit because we think things are coming together for him," Rockies manager Bud Black said of Bard, who has a 0.87 ERA in 20 2/3 innings over 20 appearances this season
The Rockies haven't swept an opponent since they won three straight against the Milwaukee Brewers from May 2-4
Right-hander Garrett Whitlock (3-2, 4.78 ERA) is scheduled to start on the mound for Boston, and unlike Gomber, he's trending in a positive direction. He is a 2-0 with a 3.38 ERA in his past three starts.
Whitlock outdueled Gerrit Cole in his most recent outing, a 3-2 win against the New York Yankees on Friday. Whitlock yielded two runs (one earned) on seven hits in 6 1/3 innings. He struck out six and issued one walk.
Whitlock replaced Corey Kluber in Boston's rotation after Kluber, a two-time American League Cy Young Award winner, began the season with a 2-6 record and a 6.26 ERA in his first nine appearances. Whitlock has not faced Colorado during his career.
Despite Devers' heroics on Tuesday, the Red Sox went 2-for-11 with runners in scoring position
The Wednesday game will be the third contest of a 10-game road trip for the Rockies, who will start a four-game series at Atlanta on Thursday before finishing the trip with three at Cincinnati
The Red Sox are 0-2 to start a six-game homestand that concludes with a three-game visit from the New York Yankees this weekend
--Field Level Media