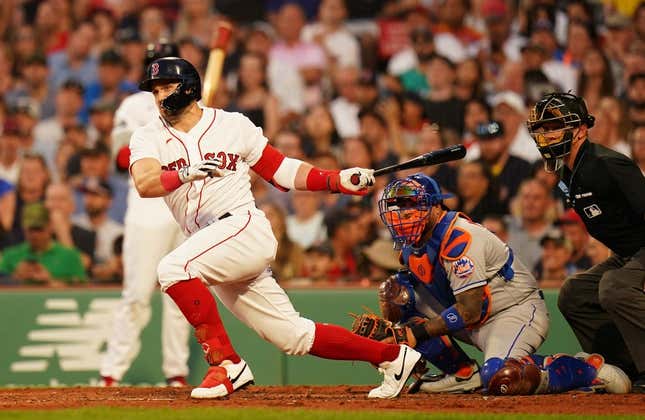 The Boston Red Sox will welcome in another National League opponent as the Atlanta Braves visit to begin a brief two-game series on Tuesday night
How running an NFL team is like running a restaurant | Chef Emeril Lagasse
Boston is coming off a series win against the New York Mets, clinching the set with a 15-hit performance in a 6-1 Sunday triumph. It was the team's fifth series win out of six since June 30.
"You have to have a short memory in this game or it's going to beat you up," Boston's Adam Duvall said. "Obviously, a series out West (against Oakland) didn't go like we wanted to, but to turn around and get two out of three here (against the Mets), that's big. That's what you got to do."
The Red Sox, who have not named a starting pitcher for Tuesday's game, have won seven of their last eight home games
Rafael Devers homered Sunday as part of his 30th multi-hit game of the season, which mark the most among American League third basemen.
However, the Boston offense is looking for more out of outfielder Alex Verdugo, who is hitting just .127 in July.
"It's been more than a week," Red Sox manager Alex Cora said. "Like swings and misses and not hitting the ball hard. So just one of those that he's not feeling right at the plate. Hopefully, kind of like the next few days, just work that he's working in and do a little bit more to get his swing back. And, you know, we'll get him back during the week.
New England native Charlie Morton (10-7, 3.36 ERA) takes the ball for Atlanta looking to bounce back from having a five-start winning streak snapped last Wednesday against Arizona.
Morton had not taken a loss since June 2 prior to that start, when he allowed four runs across 5 2/3 innings. It was his first time giving up more than a single run this month, but his seventh straight start working at least five innings.
That outing marked the last of four straight Braves losses that led into their weekend series at Milwaukee, which finished with Atlanta's 4-2 win on Sunday
"I think with the right group, losing and getting pushed around a little bit can be beneficial," Morton said. "You don't want to have to experience that. You don't want to lose games. But with the right group, and I think we have the right group, it just becomes motivation."
The teams split a two-game series in Atlanta in May. Morton started the Braves' win, pitching six innings of two-run ball with seven strikeouts. He has fanned at least that many batters in three consecutive starts against the Red Sox since 2021
Morton is 8-1 with a 3.95 ERA over 14 career starts against Boston.
Sunday's win also marked the MLB debut of Daysbel Hernandez (1-0), who tossed a scoreless inning to post the victory in relief.
"It's nice to have guys in the bullpen with stuff," Atlanta manager Brian Snitker said. "It looks like he has a good feel for the strike zone, too."
--Field Level Media