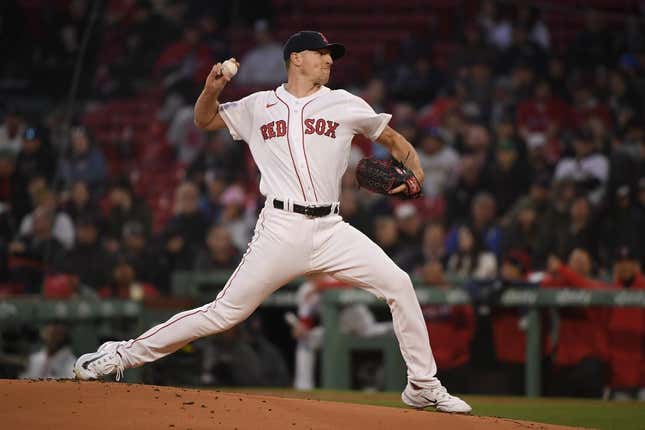 The Boston Red Sox have faced their share of ups and downs early this season
Following a 5-3 win over the Los Angeles Angels on Friday, they will look to remain on the positive side of the ledger as the teams' four-game set continues on Saturday
Bass' ERA stinks, but not compared to who he is off the mound | Worst of the Week Countdown
It was not the prettiest of series openers, but the Red Sox won't complain after being swept in four games by Tampa Bay this week
On Friday, Boston took advantage of three Angels errors, leading to four of the Red Sox's five runs being unearned
"We pride ourselves on being a team that plays the game hard and runs the bases hard all the time, and (on Friday) that paid off," said Enrique Hernandez, who logged two of Boston's five hits while playing in center field.
Rafael Devers hit his sixth homer of the season, which is tied for the major league lead.
Boston faced a 2-0 deficit after three innings, meaning it was the team's fourth comeback win out of six total victories this season.
The Red Sox are expected to have left fielder Masataka Yoshida back this weekend after he missed three games because of a hamstring injury
Yoshida is especially excited about and "honored" to face Angels star Shohei Ohtani, his Japanese countryman who will pitch on Monday
"This guy, with all due respect to all the athletes in the world, he has to be like the best athlete," Red Sox manager Alex Cora said of Ohtani's two-way talents. "What he's doing, what he did, is amazing.
Boston right-hander Nick Pivetta (0-1, 0.90 ERA) will look to replicate the success he had in his two previous outings this season.
Pivetta threw five scoreless, three-hit innings with six strikeouts on Monday before the Red Sox fell in the series opener vs. Tampa Bay. It was his fourth time starting a 1-0 loss, the most such starts in the majors since the beginning of 2021
"You go out and you execute, execute your game and do your job, it's gonna be tough to hit any time," Pivetta said. "(The Rays have) a talented lineup, but I've faced them quite a few times in the past, so I'm gonna continue moving forward with my game plan."
Last year, Pivetta struck out a season-high 11 Angels across five innings on June 8, though he gave up four runs on six hits and two walks while taking a loss. In two career starts vs. Los Angeles, he is 0-1 with a 4.91 ERA
The Angels' second of three straight left-handed starters in the series will be Tyler Anderson (1-0, 4.22)
A 2022 National League All-Star for the Dodgers, Anderson struggled in his latest start. He allowed five runs on seven hits and struck out four in 4 2/3 innings on April 8 against the Toronto Blue Jays.
Six days earlier, he had won his Angels debut in Oakland, throwing six shutout innings against the A's
Anderson's only previous start against Boston came as a Seattle Mariner on Sept. 14, 2021. The lefty allowed one run in 4 1/3 innings during a no-decision.
The Angels will look to tighten their defense behind Anderson following what manager Phil Nevin described as an uncharacteristic Friday effort
"We're better than that. We all know that," Nevin said. "Mistakes happen. It's one of those nights."
Despite an 11-hit effort, Los Angeles was held to four runs or less for the fourth straight game. Anthony Rendon went 3-for-4 to lead the offense.
--Field Level Media