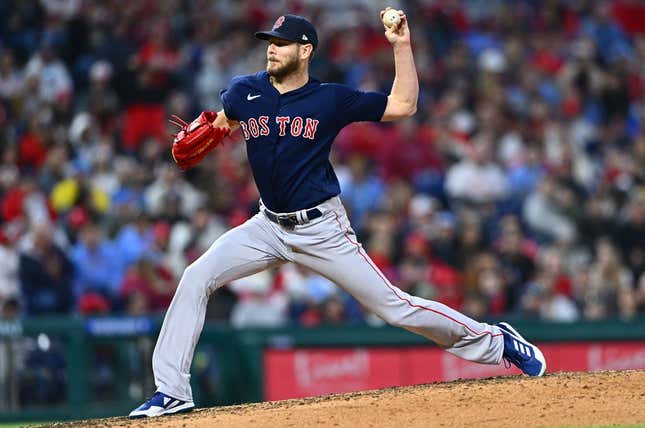 The Boston Red Sox hope Chris Sale continues to trend in a positive direction when he takes the mound for a Saturday afternoon home game against the St. Louis Cardinals
Sale, a seven-time All-Star who was hampered by injuries the previous two seasons, is coming off his best performance of the year. He struck out 10 in six innings as Boston beat the Philadelphia Phillies 5-3 on May 5. He allowed three runs on seven hits and a walk.
Sale, 34, also threw a four-seam fastball clocked at 99 mph. It was his fastest pitch in a major league game since 2018.
"It's part of the process, right?" Sale said after the May 5 game. "Not gonna be a finished product right out of the gate, especially with all the stuff that's happened."
Sale (3-2, 6.37 ERA) signed a five-year, $145 million deal before the 2019 season. He went 6-11 in 2019, had Tommy John surgery in March 2020, and was limited to nine starts in 2021 and two in 2022.
He pitched a total of 12 innings in his first three starts this season, during which he allowed 16 runs (15 earned), five home runs and seven walks while striking out 19. In his four starts since then, he has allowed 10 runs, no home runs and four walks while fanning 26 in 23 1/3 innings.
The left-hander lasted five innings once in his first three starts but has pitched at least five innings in each of his past four outings, including three starts in which he pitched at least six innings.
In his only career start against St. Louis, Sale allowed one run and six hits in eight innings during a no-decision for the Chicago White Sox in 2015.
He will be opposed on Saturday by left-hander Steven Matz, who got off to a rocky start this season. Matz (0-4, 5.70) also is coming off his best performance of the season. He allowed a run on five hits over 5 1/3 innings in a no-decision against the Detroit Tigers on Sunday.
"I thought I did well," Matz said after that game, a 12-6 victory that ended St. Louis' eight-game losing streak. "A lot of soft contact, which was good. ... I still think there's a lot of room for improvement for me. I was working behind (in the count) to a lot of guys. Just trying to be more consistent with (the curveball). I think getting that pitch going is going to be huge."
Matz is 1-2 with a 5.75 ERA in four career starts against the Red Sox
St. Louis won the opener of the three-game series 8-6 on Friday in a game that featured five home runs, including a pinch-hit, two-run shot from Nolan Gorman that broke ninth-inning tie.
"The biggest thing is to make sure you're ready before they call your name," Gorman said. "I go down there (in the indoor cage) to make sure my body's ready, make sure my swing's good, and really just in between innings look at the pitchers that might be coming in."
St. Louis' Nolan Arenado had four hits, including a two-run home run, in the victory. Arenado is 8-for-16 with three home runs and six RBIs in his past four games against Boston dating to last June.
--Field Level Media