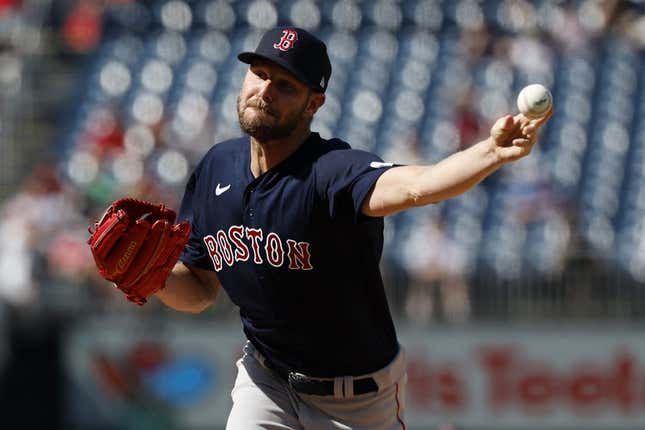 As the Boston Red Sox try for a series win against the host Kansas City Royals on Sunday afternoon, they will look for a continuation of a strong offense while searching for consistent starting pitching.
How running an NFL team is like running a restaurant | Chef Emeril Lagasse
Boston's offense is led by Adam Duvall, the American League's Player of the Week for Aug. 21-27. Duvall is hitting .422 (19-for-45) with six doubles, seven homers and 15 RBIs in his last 12 games.
Despite recording a multi-run inning in 18 of 19 games and scoring an average of 5.8 runs per game in that span, the Red Sox are 9-10 since Aug. 13, surrendering 6.2 runs per game.
"We're not getting deep enough," Boston manager Alex Cora said of his starting staff after suffering a sweep earlier in the week by the Houston Astros. "And we've been paying the price the last 10 days. We can't keep running three innings. We struggled throwing strikes.
"It's tough, but it's where we're at. We've just got to get over the hurdle."
Red Sox starters averaged 3 1/2 innings while posting a 9.35 ERA and being outscored 46-17 during a five-game losing streak that ended in Saturday's 9-5 win over the Royals.
Tanner Houck pitched five innings Saturday, Boston's longest start since Kutter Crawford pitched five Aug. 25 against the Los Angeles Dodgers, but it was the eighth straight game the Red Sox needed at least four innings from their bullpen.
Nick Pivetta provided some respite for Boston's overworked pen, striking out five during a three-inning save Saturday, his third career save and first since 2021.
"I talked to him today and said we might need you for one, or two, or three," manager Alex Cora said. "And he said 'I'm ready to pitch.' He is one of the most important pitchers on this staff."
In the season finale between the two clubs, left-hander Chris Sale (5-3, 4.75 ERA) will take the mound for Boston, while Kansas City will go with right-hander Taylor Clarke (2-4, 5.44).
Sale allowed three runs on seven hits in 4 2/3 innings Monday against the Houston Astros and hasn't pitched more than five innings since May 20 against the San Diego Padres.
In 35 career games (24 starts) against Kansas City, Sale is 12-10 — his most wins against any opponent — with a 2.73 ERA. He last faced the Royals on June 5, 2019, hurling a three-hit shutout with 12 strikeouts at Kauffman Stadium. He hasn't lost to Kansas City since 2016, going 4-0 in five starts since then.
Kansas City also is searching for consistent starting pitching from someone other than Cole Ragans. The Royals finished August on a 2-13 slide with just three quality starts, all by Ragans. In the other 12 games, Kansas City starters averaged just over four innings with an 8.14 ERA.
Sunday will mark Clarke's second start of the season in his 49th outing. He went two scoreless innings on April 21 at the Los Angeles Angels. He has lasted two innings just three times this season.
In his three career appearances against Boston, all in relief, Clarke is 1-0 with a 10.13 ERA, having allowed three runs and four hits in 2 2/3 innings.
Before Friday's 13-2 victory over the Red Sox, the Royals' bats were mostly silent, producing 13 runs during a six-game losing streak.
One of Kansas City's few productive hitters over the second half of the season, MJ Melendez is batting .330 with 14 extra-base hits, hitting safely in 20 of 24 games.
"It goes back to better balance, better timing," Royals manager Matt Quatraro said. "That's a challenge for every young player, to do it day in, day out."
Melendez, who went 3-for-3 with a double and a homer on Saturday, has been particularly productive against Boston with a career .444 average and 11 extra-base hits.
"It's kind of a mental thing, in a good way, that it's a team that I happen to do well against," Melendez said. "I don't think it's anything in particular."
—Field Level Media