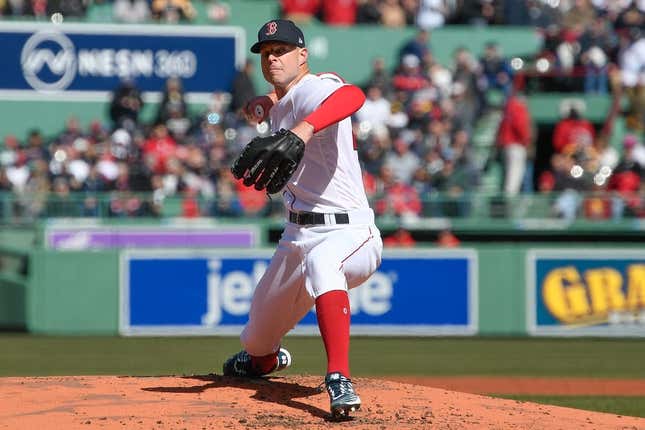 Of all the things that have plagued the Boston Red Sox so far this season, perhaps allowing home runs is at the top of the list
The visiting Pittsburgh Pirates have hit five home runs in the first two games of their series against the Red Sox, and they will look to complete a three-game sweep on Wednesday afternoon
Boston pitchers have served up 12 home runs in five games this season. Only the Arizona Diamondbacks have allowed more (13).
Ji Hwan Bae hit a two-run home run and Bryan Reynolds added a solo shot in Pittsburgh's 4-1 triumph on Tuesday. Reynolds hit two of Pittsburgh's three home runs in a 7-6 victory on Monday.
"The opposite-field home run (by Bae) ... pitch down and away, and it goes out," Red Sox manager Alex Cora said. "I don't mind the breaking ball to Reynolds, but he was looking for it and he put a good swing on it.
Bae, a second-year player, swatted the first home run of his major league career.
"I always tend to lose my stuff, so I'm just going to send it back to Korea," Bae, speaking through a translator, said of the souvenir ball.
Reynolds has collected three hits in each of Pittsburgh's two victories against Boston. He is seeking a contract extension from the Pirates, but so far the sides have been unable to complete a deal
The contract situation hasn't seemed to bother Reynolds' on-field performance. The 28-year-old outfielder is hitting .429 with four home runs through five games.
"I don't think Bryan lets anything affect him once he gets between the lines," Pirates manager Derek Shelton said. "That's something that I know I personally really appreciate about him, that regardless of what is happening externally he is always the same guy.
Boston scored 33 runs in its first four games but was limited to four hits on Tuesday.
"(Monday) they changed the script and started throwing more breaking balls against us," Cora said. "(Tuesday) they did the same thing. Just make adjustments and keep putting up good at-bats and we'll be OK."
Two-time Cy Young Award winner Corey Kluber is scheduled to make his second start of the season for Boston on Wednesday. Kluber (0-1, 13.50 ERA) surrendered five runs on six hits and walked four in 3 1/3 innings as the Baltimore Orioles beat the Red Sox 10-9 in the season opener on Thursday
Boston landed Kluber in January after it lost veteran pitchers Nathan Eovaldi (Texas Rangers) and Rich Hill (Pirates) in free agency. Kluber signed a one-year deal with Tampa Bay last season, and he made 31 starts for the Rays while going 10-10 with a 4.34 ERA and a 1.21 WHIP
Mitch Keller (0-0, 7.71) is scheduled to start the series finale for Pittsburgh. He got a no-decision in the Pirates' opener after allowing four runs on six hits in 4 2/3 innings against the host Cincinnati Reds. He struck out eight and walked four
Keller has faced the Red Sox just once previously; he gave up five runs (four earned) in two innings during a loss on Aug. 16, 2022. Kluber is 0-1 with a 4.82 ERA in two career starts vs. the Pirates
--Field Level Media