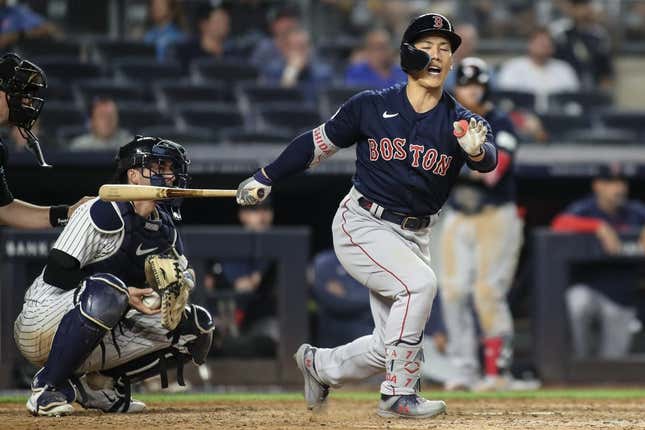 In the first two games of the season between the Boston Red Sox and New York Yankees, runs have been at a premium
Is Texas or Florida State a bigger national title contender? | Agree to Disagree
The two games have lasted a combined 5 hours, 57 minutes, and the teams have managed just nine runs at Yankee Stadium as the American League East rivals each look for a series win on Sunday night.
After the Red Sox opened the series with a 3-2 victory Friday thanks to solo homers by Rafael Devers and Enrique Hernandez, the Yankees eked out a 3-1 win on Saturday night with a similar formula. The Yankees finished with six hits and had three at-bats with runners in scoring position, but Gleyber Torres and Willie Calhoun hit solo homers to go along with a late RBI single by Kyle Higashioka
The Yankees head into the series finale 3-3 since Aaron Judge injured his right big toe running into the right-field wall at Dodger Stadium to track down a fly ball. They have 10 runs in those three wins by getting just enough, including two homers from Calhoun in that span along with a homer from Billy McKinney
"We talk about it starting in spring training," Yankees manager Aaron Boone said. "It's gonna take everyone. It's gonna take more than you even think, and we need to be ready for that. To their credit, they've done a really nice job for us in helping us win games. Ultimately that's what it's about.
Devers homered for the second straight game, but Boston is 6-13 in its past 19 games.
On Saturday, the Red Sox were 0-for-5 with runners in scoring position and stranded 11. In the series, they are 1-for-9 with runners in scoring position and 4-for-34 over the past four contests
"We have traffic," Boston manager Alex Cora said. "We're working the counts, but obviously we're not scoring runs. We're not finishing anything. The two-out hits, they're always important in this game, and we just got to find ways to get it going."
Right-hander Brayan Bello (3-4, 3.97 ERA) will look to end a personal three-game losing streak Sunday night. Since winning three straight starts from May 4-17, Bello is 0-3 with a respectable 3.18 ERA.
Bello has allowed three runs or less in his past eight outings. He last pitched Monday when he allowed three runs on six hits in six innings of a 4-1 loss to the visiting Tampa Bay Rays.
Bello lost both of his starts against the Yankees in 2022 He allowed three unearned runs in five innings of a 5-3 loss at Boston on Sept. 14 and allowed an earned run in six innings of a rain-shortened 2-0 loss in New York on Sept. 25
Clarke Schmidt (2-6, 4.96), who is winless in his past three starts, will start for New York. Since getting the win May 19 in Cincinnati, the right-hander is 0-2 with a 2.16 ERA.
Schmidt last pitched in Tuesday's 3-2 home loss to the Chicago White Sox when he allowed three runs and six hits in six innings. While Schmidt matched his longest career start, he also allowed a homer for the first time in five starts as Seby Zavala took him deep twice.
Schmidt is 0-1 with a 6.75 ERA in four career relief outings against the Red Sox
--Field Level Media