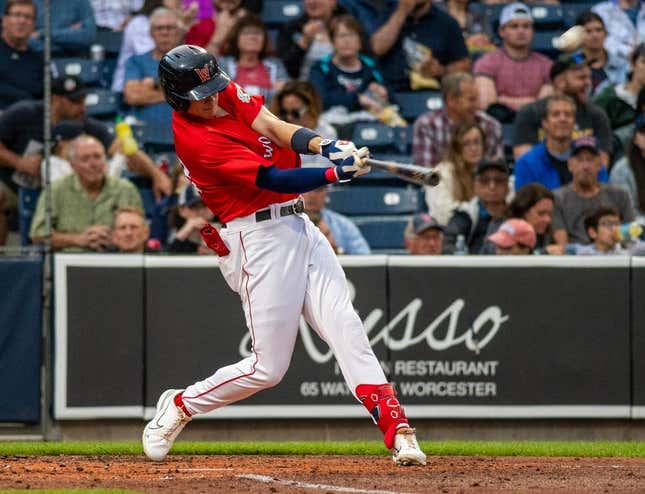 Boston Red Sox manager Alex Cora is dealing with a lineup problem as his team finishes a three-game road series against the Chicago White Sox on Sunday, but it's a problem he may be happy to have
How running an NFL team is like running a restaurant | Chef Emeril Lagasse
The Red Sox recalled hot-hitting corner infielder Bobby Dalbec from Triple-A Worcester on Friday, but they have no obvious place to play him
Dalbec, 27, was used as a third baseman for much of his minor league career, but he played first base when the Red Sox called him up in 2020. Boston has Rafael Devers at third base and Triston Casas at first. Justin Turner has been the team's primary backup at both positions
Based on how Dalbec performed in Triple-A this year, it may behoove the Red Sox to find playing time for him, however. Dalbec batted .296 with 18 home runs and 42 RBIs in 54 games with Worcester and hit .333 with 15 home runs and 38 RBIs over his last 36 games
Dalbec appeared in 133 games for the Red Sox in 2021 and 117 games in 2022. He totaled 37 home runs over those two seasons, 25 of them in 2021
"Obviously, where we're at roster-wise, he needs to be patient," Cora told reporters before Boston's 3-1 victory over Chicago on Friday night. "And I understand how it works. It's part of it. While he's here, he's going to get chances to contribute. And he's ready to go. That's part of being a big-leaguer, a professional baseball player. He sees what's going on here.
"But at the same time, he belongs to us. He's with us. And he's been working hard to get better. In this business, you're always one injury away from coming up here and contributing. He's here right now, and hopefully, he's in the right frame of mind. And whenever he gets a shot, just go ahead and keep doing the things you were doing at Triple-A."
Dalbec didn't get an at-bat in the first two games against the White Sox, who won Saturday's matchup 5-4. He has played in nine games for Boston this season and is 2-for-11 with two walks and no RBIs
Kutter Crawford (2-3, 3.74 ERA) is listed as Boston's starting pitcher for Sunday's game. The right-hander has never faced the White Sox, who have not announced a starting pitcher
Right-hander Jesse Scholtens (0-2 2.79 ERA) is among the options for the White Sox. Scholtens, who made his major league debut on April 7 at Pittsburgh, has been used primarily in relief since being recalled from Triple-A Charlotte on June 16. He has not pitched against Boston
Chicago's Tim Anderson made the first start of his major league career at second base on Friday night and also played second in Saturday's win. Anderson, who typically plays shortstop, returned to the lineup Friday after missing four games with a right shoulder injury.
He wasn't scheduled to play Friday night but suggested the move to second base after testing his shoulder before the game. He was injured during a 4-3 victory over Seattle last weekend.
"Don't read too much into it," White Sox manager Pedro Grifol said. "All intentions are for him to go back to shortstop.
--Field Level Media