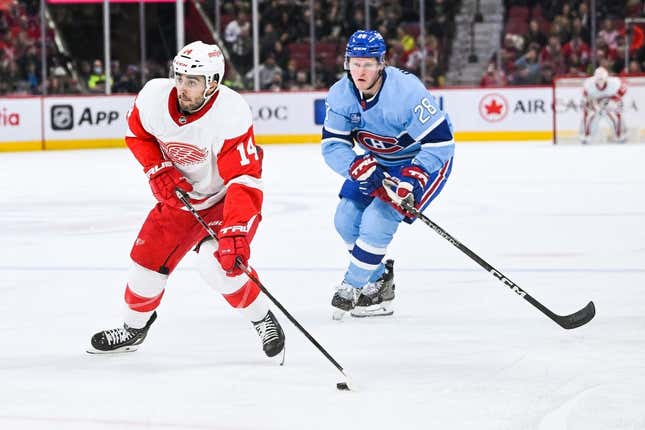 Looking to finish the regular season on a high note, the Detroit Red Wings travel to Montreal on Tuesday for an Original Six matchup against the Canadiens
The Red Wings (34-33-9, 77 points) are mathematically still alive in the playoff race, but realistically, the team's final six games are about turning in as many quality performances as possible looking ahead to next season
With a 3-1-0 record in their last four games, the Wings have been looking sharp, thanks to some unexpected help in net. Alex Nedeljkovic started all three of those victories, with a .932 save percentage and 2.67 goals-against average on his three-game win streak.
With Ville Husso still sidelined with a lower-body injury and Magnus Hellberg struggling, Detroit has been increasingly leaning on Nedeljkovic. The goalie has started four of his six games since being called up from the AHL, including a 43-save gem in Sunday's 5-2 win over the Toronto Maple Leafs.
"I'm so happy for Ned, and obviously (he was) a big factor why we stay in those games lately," defenseman Moritz Seider said. "Ever since he came back, he's owned the net. He's been robbing guys, saving games. It's been really fun to watch."
Despite a 45-24 shots advantage for the Maple Leafs, Nedeljkovic's goaltending and Dylan Larkin's offense carried Detroit to the victory. Larkin tallied his second career NHL hat trick, with his first two scores restoring the Wings' two-goal lead after Toronto had made it a one-goal game.
Larkin is the Red Wings' leader in goals (31), assists (45) and points (76) this season. The Detroit captain has already established a personal high in points, and he is closing in on his past career bests of 32 goals (2018-19 season) and 47 assists (2017-18)
While the Red Wings have been playing solid hockey, Montreal (30-41-6, 66 points) is trying to rebound from one of its worst losses of the season
The Habs suffered a 3-0 shutout loss to the Carolina Hurricanes on Saturday that saw Carolina outshoot the Canadiens by an ungainly 50-14 margin. It was the largest negative shot differential the Canadiens have ever posted in a home game in franchise history
"We were definitely frustrated," Montreal coach Martin St. Louis said. "But we just didn't have enough gas in the tank to do something about it. ... It's a bad feeling. You feel like you're going up and down and not touching the puck. It's deflating."
Sam Montembeault almost single-handedly kept the final score respectable for the Canadiens, as he stopped 47 of 50 Hurricanes shots. The outstanding performance might earn the goalie another start on Tuesday, as Montembeault and Jake Allen are expected to more or less split the workload over Montreal's final five games
The Canadiens are on a three-game (0-3-0) losing streak and in last place in the Atlantic Division
Rafael Harvey-Pinard is questionable after missing the Hurricanes' game due to an undisclosed injury, though St. Louis indicated that the forward's issue was fairly minor. However, forward Alex Belzile is done for the season after fracturing his leg in Saturday's game.
The Red Wings are 2-0-1 in three previous games with the Canadiens this season, including a 4-3 overtime victory in Montreal on Jan. 26
--Field Level Media