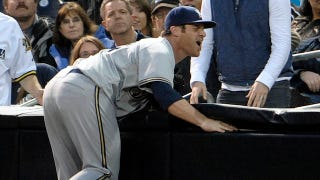 It super sucks to be Mat Gamel right now. The Milwaukee Brewers' corner infielder, who was at one time a fairly promising prospect, will miss the entire 2013 season after tearing his ACL. Gamel's injury is all the more depressing due to the fact that he just finished a rehab stint after tearing the same ligament last May. It gets even worse, though, because Gamel's latest ACL tear was a bit of a freak occurrence:
"It's a tear of the middle portion of the repair, which as (team physician William) Raasch explained to me, is unusual," assistant general manager Gord Ash said. "There are failures — 10 percent seems to be the historical number. But of those failures, they're mostly at either end (of the ligament)."
Gamel has yet to play a full season at the major league level, but the Brewers were planning on making him the team's starting first baseman while Corey Hart recovered from his own knee injury. Instead, Gamel is left to spend another season in solitude, rehabbing his knee and pondering the inherent cruelty of life. Poor bastard.