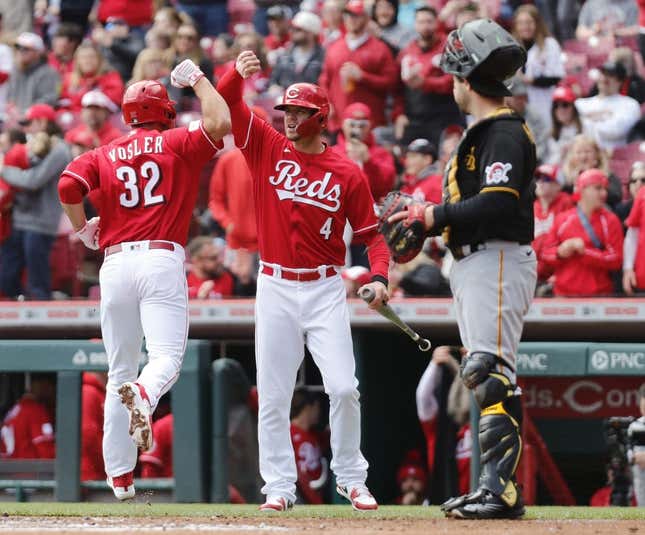 Jonathan India and the Cincinnati Reds look to continue their early-season team-building on Monday night when they open a three-game series against the visiting Chicago Cubs
Does Jimmy Butler have the best NBA Finals origin story? | Agree to Disagree
The Reds belted six homers while taking 2 of 3 games from the Pittsburgh Pirates over the weekend. After each long ball, India helped start a new tradition of bestowing a Viking helmet and coat on the hero upon his return to the dugout
The idea started as a tribute to Reds outfielder Jake Fraley, who is of Nordic heritage. India placed the garb on the head of Spencer Steer after clubbing Cincinnati's first homer in Thursday's season-opening 5-4 loss. That trend has continued five more times in Cincinnati's wins on Saturday and Sunday
"I'm an emotional player," India said. "That's how I am. I play hard. I play for my team. I want to win. People feed off that energy, so I'll do it all year, no matter what. I want to win. That's it. And that matters.
"I just want everyone to be on the same page. I play the game, a lot of passion, a lot of heart. I play the game really hard, and I think we need that as a team. We need it as a group. We need everyone to buy into that. You have to compete for every out in the game."
India has led by example, going 5-for-11 in the first three games, riding a torrid end to spring training into the season.
Cubs outfielder Ian Happ is someone who has always enjoyed returning to the city where he played collegiately
Happ, a 2015 All-American for the University of Cincinnati, has a .313 average with 16 homers and 36 RBIs in 43 career games at Great American Ball Park. The 16 homers and 36 runs driven in are the most by far for Happ at any road venue.
Happ could become a free agent in 2024, as an extension with the Cubs has yet to materialize
"That's just not something that I really want to get into," Happ said. "Went through the process. And that's about it. There's nothing really to report. No real comment on it."
Connor Overton (1-0, 2.73 ERA in 2022) is set to make his first start of 2023 for the Reds. Overton made six appearances (four starts) for Cincinnati last season, holding opponents to a .188 average. The right-hander then missed 110 games while on the 60-day injured list with a stress reaction in his lower back
Overton was roughed up in four spring training appearances, including three starts. He went 0-2 with a 15.43 ERA, allowing 23 runs (20 earned) on 26 hits -- including six home runs -- over 11 2/3 innings.
The Cubs counter with Drew Smyly (7-8, 3.47 ERA in 2022), who went 0-2 with a 6.06 ERA in five starts in spring training. Monday marks Smyly's first start in 2023 after making 22 starts for the Cubs a season ago. Smyly finished the season strong, allowing two or fewer runs in eight of his final nine starts, with a 2.28 ERA in those nine starts
Smyly will make his ninth career appearance (eighth start) versus Cincinnati, sporting a perfect 5-0 mark to go with a 2.92 ERA and one save.
--Field Level Media