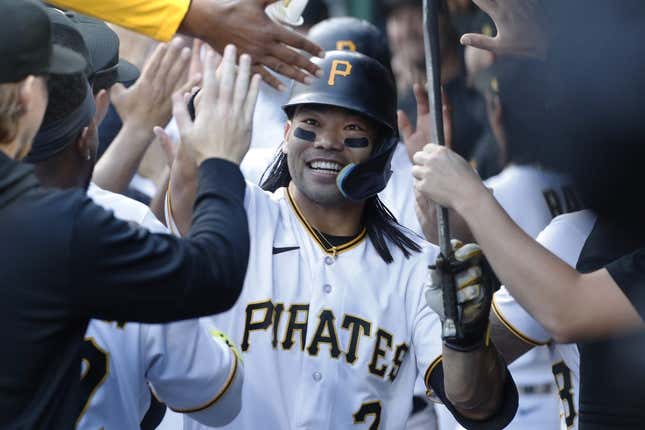 With three games remaining in their current series against the Pittsburgh Pirates, the visiting Cincinnati Reds might want to petition to skip the first inning and go straight to the second
Aaron Rodgers should go full Joe Namath | Comedian Bert Kreischer
The Pirates' offense has been getting hot starts. A four-run first inning Thursday held up in a 4-3 win over Cincinnati. Pittsburgh scored five runs in the first inning of its previous game, a 14-3 win over the Colorado Rockies on Wednesday in Denver
"We've just been trying to come out with energy every night," Pittsburgh third baseman Ke'Bryan Hayes told AT&T Sportsnet. "We're trying to attack early, and the last few days have been really fun."
The Pirates' pitching has certainly helped, with the rotation producing 10 quality starts in a row as the team has won four straight and five of six. The 13-7 start is Pittsburgh's best since having the same mark in 2002
The Reds, since taking two of three in a season-opening series against visiting Pittsburgh, are 5-11 and have lost three in a row and four of five
"We're going to get better," Cincinnati manager David Bell said. "We're working. The wins are coming. Sometimes you've just got to break through with a few runs."
On Friday, Cincinnati right-hander Graham Ashcraft (2-0, 1.42 ERA) is scheduled to face Pittsburgh right-hander Mitch Keller (1-0, 3.80).
Ashcraft has allowed three runs over 19 innings. On Saturday against the visiting Philadelphia Phillies, he got the win with six scoreless, four-hit innings.
"I feel like I'm making progress and going in the right direction," Ashcraft said. "Mechanically, there's still a couple things that we need to tweak and keep pounding at ... But, to me, the biggest takeaway (Saturday) is just how good the two-seam was. I was able to get the right action off of it, pound the zone with it and get good swing and misses. That's a big plus. Just need to carry it over to the next outing."
Against Pittsburgh, Ashcraft is 1-0 with a 2.63 ERA in two career starts. That includes a win April 2 against the Pirates, when he gave up one run and four hits in seven innings
On Sunday at St. Louis, Keller did not get a decision after allowing three runs in six innings. He admitted he was not at his best, but he was satisfied with producing one of the Pittsburgh staff's run of quality starts.
"That's our job -- to go as deep as we can," Keller said. "It's really cool to see that we're finally putting it together here, all of us. I think it just comes back to really good game plans. Everyone is on a really good routine. We're sticking with our plan and really getting good work in. The test will be to keep it going for the rest of the year and be consistent."
Keller is 1-4 with a 6.88 ERA in 12 career starts against the Reds. He had a no-decision on March 30 in the season opener for both teams at Cincinnati, when he gave up four runs in 4 2/3 innings
--Field Level Media