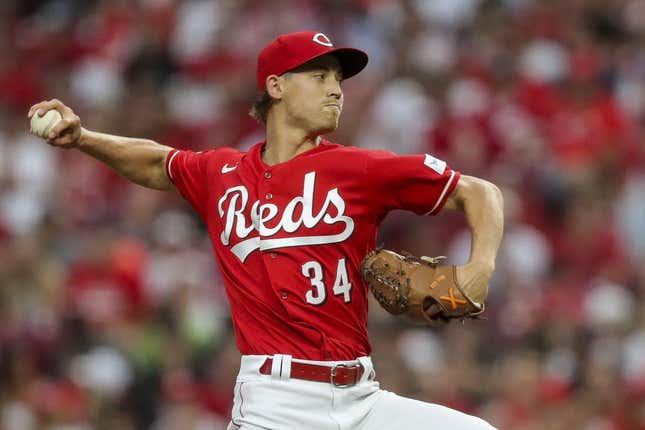 One team is going for a sweep and wasn't sure whether its starter would be making his scheduled start. The other isn't going with a starter at all.
Is Texas or Florida State a bigger national title contender? | Agree to Disagree
That's the case Sunday when the Cincinnati Reds shoot for their fifth straight win as they host the Arizona Diamondbacks to conclude their three-game set
Taking the ball for the Reds is right-hander Luke Weaver (2-2, 7.22 ERA) who has been battered at times, and literally so in his last start
Weaver was driven from the game on Tuesday against the visiting San Francisco Giants when Michael Conforto ripped a line drive up the middle. The ball smacked Weaver on the back of his left elbow as he was turning to try to dodge the ball. Within minutes, the elbow swelled noticeably and his arm went numb.
In 2 2/3 innings, Weaver gave up four runs on four hits, including two home runs, and a walk. He also struck out six, in part because he flashed his best fastball of the season at 97 mph.
"He had given up some runs there, a couple mistakes on the home runs, but he absolutely had a couple more innings in him," Reds manager David Bell said, noting Weaver's increased velocity
The Reds used six more pitchers and lost that game 11-10, extending their skid to six games, although they have since won four straight
Later in the week, Weaver pronounced himself fit to take his turn in the rotation. In three games in his career against the Diamondbacks, including two starts, he is 0-1 with a 4.85 ERA in 13 innings
The Diamondbacks don't have a traditional starter available. The team announced after Saturday's game that reliever Jose Ruiz (2-1, 5.48) would begin what appears to be a bullpen game
Ruiz, a right-hander who is in his seventh season in the majors and whom the Diamondbacks purchased from the Chicago White Sox on April 9, will be making his 38th appearance, all in relief, between the two teams. On three occasions, he has pitched two innings, his longest of the season
Ruiz has made five relief appearances in his career against the Reds, including pitching the ninth inning Friday night. He walked one and struck out two in Cincinnati's 9-6 win
The Diamondbacks have lost six of eight games since the All-Star break and 11 of their past 15
"I see us getting out of our plan and process at times," manager Torey Lovullo said Saturday. "If I'm looking at one thing, I'd probably say get grounded, get centered, get stacked up and hit the ball where you're looking. When we do that we're pretty good."
Lovullo said he also liked what he saw from right-hander Brandon Pfaadt, who was making just his seventh major league start. He held the Reds at bay for five innings, striking out six. It could have turned ugly early, however, when a single, an error and a hit batter loaded the bases with no outs in the first
Instead, Pfaadt got back-to-back strikeouts and a groundout to escape unscathed.
After the Diamondbacks took a 1-0 lead in the top of the sixth, Pfaadt surrendered three straight solo home runs in the bottom of the inning, and the Reds went on to win 4-2
"I'm going to highlight the good things he did. Getting out of that first inning gave him that push for the next five. He made some statements out there," Lovullo said.
--Field Level Media