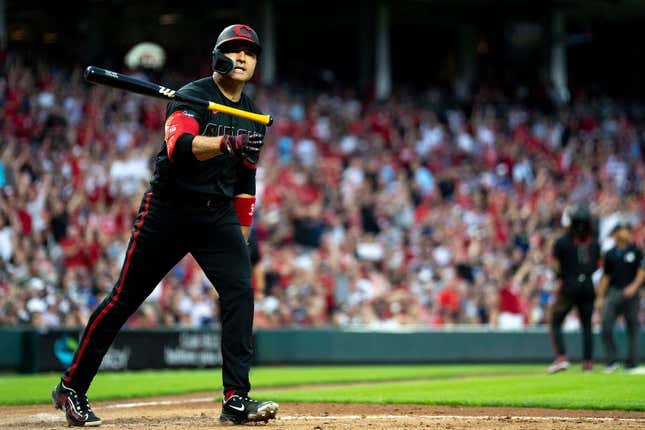 History is at stake on Saturday as the Cincinnati Reds look for a record-setting 13th consecutive win when they host the Atlanta Braves
How running an NFL team is like running a restaurant | Chef Emeril Lagasse
The Reds held on for an 11-10 win Friday night, capturing their 12th straight victory to match the 1957 and 1939 clubs for the longest modern-era streak in franchise history
The Reds, baseball's oldest professional franchise, won 13 in a row in 1890 and 14 straight in 1899. Both streaks predate the modern record-keeping era in Major League Baseball
With a victory on Saturday, Cincinnati also would match the Tampa Bay Rays for the longest win streak in the majors this season. The Rays won their first 13 games of the season.
Winners of 15 of 17 and 34 of 54 overall, the Reds have been prevailing in a number of ways. The club leads the majors with 27 come-from-behind wins, including the Friday victory, when Cincinnati erased deficits of 5-0 and 7-5
"It's a joy. It is a real enjoyable experience playing with these guys," said Reds first baseman Joey Votto, who homered twice on Friday and drove in four runs. "And I wouldn't just say this because we're in the middle of the streak. If we were playing different or had a different record or if we're in a losing stretch, I would say the exact same thing because the way these guys play, it's just different.
Rookie phenom Elly De La Cruz stole the show by producing Cincinnati's first cycle since Eric Davis accomplished the feat in June 1989.
"The only comp I can think of as Mickey Mantle, young Mickey Mantle," Votto said. "And that's unfair to put on Elly ... (as Mantle is) one of the greatest players of all time. He's at least got plenty of time to entertain the fans. He is not from this world."
The Reds will look for their lucky 13th straight by starting right-hander Graham Ashcraft (3-5, 6.78 ERA). The second-year pitcher is making his first start back off the injured list since taking a comebacker off his left calf on June 8 vs. the Los Angeles Dodgers
Ashcraft is 1-5 with a 12.72 ERA over his past seven starts after going 2-0 with a 2.00 ERA in his first six outings. The right-hander has faced Atlanta once previously, when he surrendered two runs on six hits and three walks with seven strikeouts in six innings on April 10. He took a no-decision in a game the host Braves won 5-4 in 10 innings
Atlanta counter with its second straight rookie starter, Jared Shuster (4-2, 4.57 ERA). The left-hander will be making his ninth start and first vs. Cincinnati. In his past five outings, Shuster is 4-0 with a 3.25 ERA.
The Braves, who had their second eight-game win streak of the season snapped with the Friday loss, hit five home runs, including two from Matt Olson. Atlanta belted three solo shots off Lucas Sims in the eighth inning to draw within one
The Braves, who lost for just the fourth time in 19 June games, lead the majors with 134 home runs
Ronald Acuna Jr. hit one of three bombs off Sims, hours after guaranteeing his spot as a starter in the All-Star Game on July 11 in Seattle.
Acuna captured 3,082,600 votes in Phase 1 of All-Star voting and won't need to advance in the process, as he and Shohei Ohtani of the Los Angeles Angels are assured of All-Star spots as their league's leading vote-getters.
"Super happy, super proud.," Acuna said before going 3-for-5 with a homer on Friday. "I'm very thankful for the fans who went out and made an effort to vote for me. I hope to do them proud by representing the fans and the Braves organization well in the All-Star Game.
--Field Level Media