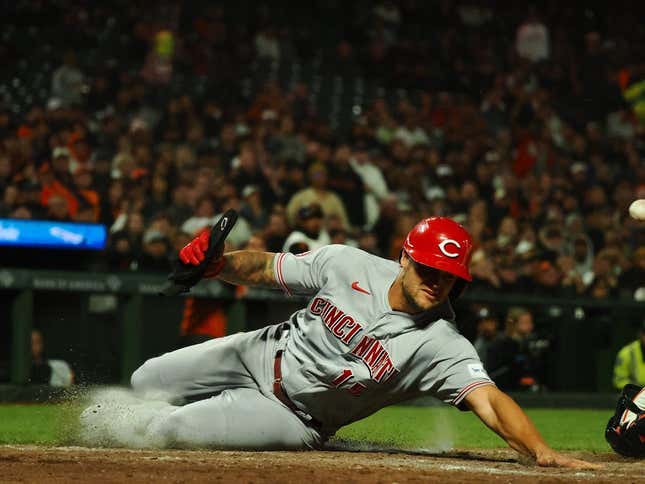 Two pitchers who started losses in the last series between the Cincinnati Reds and San Francisco Giants get another chance for a win Tuesday night when the National League wild-card hopefuls continue their three-game series.
How running an NFL team is like running a restaurant | Chef Emeril Lagasse
Kyle Harrison won a head-to-head with Andrew Abbott in a duel of highly regarded rookie left-handers in the series opener in San Francisco on Monday, with the Giants moving a game ahead of the Reds in the wild-card standings with a 4-1 home win. Both teams are chasing the third NL wild-card spot, with the Giants a half-game behind the Arizona Diamondbacks entering play Tuesday.
Giants manager Gabe Kapler was still buzzing about his 22-year-old rookie pitcher's home debut well after the final pitch had been thrown on an 11-strikeout effort.
The skipper left the ballpark hopeful of a carryover effect.
"That's about as electric a performance as we've seen since I've been here in San Francisco," Kapler said of Harrison's outing. "To do it in front of his family and see the cheers up on the big screen (scoreboard), that was pretty rewarding for all of us.
"To see him walk off the field and get that ovation, that was a pretty big moment for everyone involved."
The Reds will send another lefty to the mound in the rematch when Brandon Williamson (4-3, 4.18 ERA) opposes Giants righty Alex Cobb (6-5, 3.74).
The Giants got a hit or RBI from each of their first six batters in the lineup — all right-handers — against the lefty Abbott in Monday's win.
Williamson can expect to see a similar lineup Tuesday, especially leadoff man Austin Slater and No. 3 hitter Wilmer Flores, who combined to give the hosts a 1-0 lead against Abbott 12 pitches into the game when Slater singled and Flores doubled.
Slater and Flores each had a solo home run off Williamson when they squared off on July 17. They were the only runs the 25-year-old allowed in six innings of what turned into a 4-2 defeat.
In his first career start against the Giants, the rookie limited the visitors to four hits.
The Reds have lost 4-2, 4-3 and 3-2 in Williamson's past three starts, although he's been charged with the loss just once. He allowed five runs in 17 1/3 innings in those games.
The Reds managed a 2-2 split against the Giants last month, winning the final two games, including the one started by Cobb.
The 35-year-old is winless (0-3) with a 5.48 ERA in his last eight starts. During that stretch, he took the loss in a 5-1 defeat in Cincinnati, roughed up for five runs and nine hits in 4 1/3 innings.
Cobb has made five career starts against the Reds, going 2-2 with a 2.83 ERA.
The veteran will see a Reds team that took the field Monday having gotten the news that standout rookie Matt McLain would be out indefinitely with a strained right oblique.
McLain had an MRI in San Francisco after disclosing to the team Sunday night that he'd been struggling through pain in his right side in recent outings.
There's no timetable on his return, but time is running short on the season, with just 29 games remaining for the Reds.
"That's the worst part — the position that we're in," McLain said of the must-win nature of a wild-card race. "I'm going to do everything I can to get back as soon as I can. It (stinks), for sure. But this team's more than capable without me. We have everything we need to go win games."
—Field Level Media