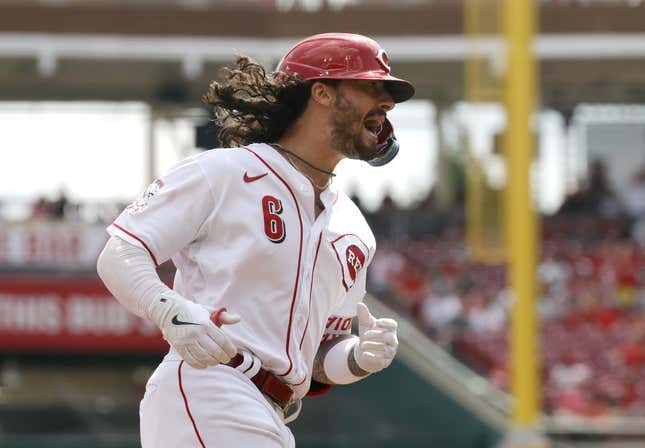 The Cincinnati Reds are getting healthy at the right time. Now, they need to take advantage of a soft spot on their schedule.
How running an NFL team is like running a restaurant | Chef Emeril Lagasse
Cincinnati (74-71) is pushing for a National League wild-card berth and still has an outside chance to win its division. The Reds play six road games this week against teams with losing records — the Detroit Tigers and the New York Mets.
Cincinnati has a 38-32 road record this season, better than its 36-39 mark at home. The three-game series at Detroit begins on Tuesday.
Cincinnati's lineup has been strengthened by the return of Jonathan India and Joey Votto.
India was activated on Sunday after being sidelined since July 28 due to plantar fasciitis in his left foot. India hit a solo homer in the Reds' 7-1 win over St. Louis, which snapped a three-game losing streak.
"I love to be on the field," India said. "This is something I didn't want to mess with. The pain went away pretty quick. But it was the trusting it again, building up, and making sure I can give it all I've got on the field."
With less than a month left in the season, India expects everyone on the team to go all out.
"We're definitely going to start pushing," India said. "It hasn't been a great month for the Reds, past two months — I guess. But we need to start getting it going now. We've got to give it all we've got. You've got to play with heart, got to play with passion. I'm going to give it all I've got, I know that."
Votto also homered on Sunday — his 40th birthday. He hadn't been in the lineup since Aug. 23 due to left shoulder discomfort.
"I've missed playing. I've missed being a part of the team, helping the team ideally move towards a playoff berth," Votto said. "To have the opportunity to compete after this long means a lot to me. I'm excited about it."
Cincinnati named rookie left-hander Brandon Williamson (4-4, 4.20 ERA) its starting pitcher for Tuesday. Williamson, who recently missed time while on the COVID-19 injured list, will face Detroit for the first time.
The Tigers (66-77) have won their last two games. They defeated the Chicago White Sox 3-2 on Sunday with Spencer Torkelson providing the big offensive blow, a two-run double.
Miguel Cabrera didn't play in either of those wins due to knee soreness. The Tigers are hopeful the retiring designated hitter will be able to bat in two of the three games against Cincinnati.
"His knee has been bothering him since the White Sox game last week, when he was on base four times and slid a couple different times," manager A.J. Hinch said on Sunday. "He's been dealing with the soreness since. We agreed that with the day off yesterday, a day off today and the off day (Monday), we will target Tuesday to get him back in the lineup and hope the soreness gets out of there."
Left-hander Joey Wentz (2-11, 6.65 ERA) is scheduled to start for the Tigers. He would face the Reds for the first time in his career.
The Tigers lost another starter to injury last week, as Matt Manning's season ended when he was struck by a line drive off the bat of the New York Yankees' Giancarlo Stanton. Manning suffered a right foot fracture.
—Field Level Media