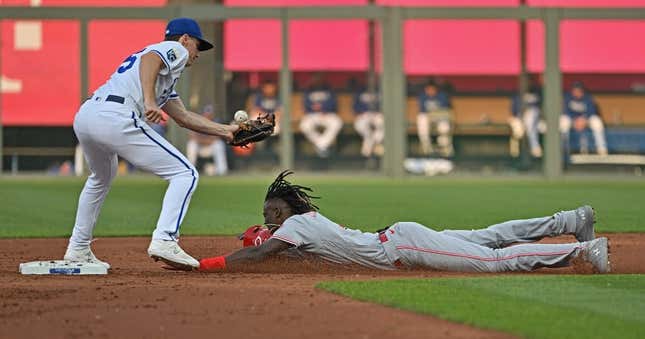 The runnin' Cincinnati Reds will look to complete a three-game sweep of the host Kansas City Royals on Wednesday night
How running an NFL team is like running a restaurant | Chef Emeril Lagasse
The Reds have won four games in a row and seven of their past nine, often succeeding by pushing the limits on the basepaths
The Royals will try to slow the Reds in an effort to end an eight-game losing streak
Cincinnati ranks third in the majors with 69 stolen bases and has increased its pace in June, swiping a big-league-best 26 bases in 28 attempts.
Everybody seems to be getting into the act as five different players have at least three steals this month.
Uber-prospect Elly De La Cruz has contributed five stolen bases, without getting caught, in his first eight big-league games.
"I'm the fastest man in the world," he proclaimed last weekend.
De La Cruz's steal on Tuesday sparked a five-run second inning as the Reds stole three bases in the frame. That rally proved decisive in Cincinnati's 5-4 win
"It's just a different level of speed," Reds manager David Bell said of De La Cruz. "The speed is incredible, and it gives you more incentive to put the ball in play.
It's not just base-stealing that feeds Cincinnati's need for speed. The Reds also excel at taking the extra base, as they lead the majors in scoring from second on singles, succeeding in 57 of 58 attempts
The aggressive baserunning has led to stealing wins such as on Monday. TJ Friedl raced home from third on a 10th-inning grounder, barely scoring the decisive run in a 5-4 victory over the Royals
"The Friedl slide, that's part of our game," Bell said. "The running, going on contact. TJ did exactly what you need to do to get his foot in."
In the series finale on Wednesday, Cincinnati will send right-hander Ben Lively (3-4, 4.21 ERA) to the mound to oppose Royals left-hander Daniel Lynch (0-2, 4.41)
Lively is coming off a pair of losses in which he surrendered a combined 12 runs on 16 hits, including five home runs, in 13 2/3 innings. He has never opposed the Royals, and he has faced just one current Kansas City batter, when Matt Duffy went 1-for-2 against him in 2018
Lynch has yet to pitch against the Reds, and he hasn't squared off with any of their hitters
Lynch hasn't recorded a victory since Aug. 1, 2022, a 14-start drought. He has allowed three earned runs or less in each of his three outings this year, including his Friday start, when he gave up three runs in six innings during a 3-2 loss to the Baltimore Orioles.
Kansas City has scored just 31 runs while losing 11 of its past 12 games, topping four runs in a game just once in that span.
While the club hit some home runs early in the year, there have been fewer of late. The Royals hit just eight long balls in those 12 games
Salvador Perez leads Kansas City with 14 homers, but besides his blasts on Sunday and Monday, the club has just one other home run since June 5.
The Royals also aren't hitting with runners in scoring position. Through the first two games of the Cincinnati series, Kansas City is 2-for-19 in those situations
"We haven't been able to expand a lead or come back unless it's a homer," Royals manager Matt Quatraro said. "I don't think it's all for one reason, but just the combination of it has been frustrating to not be able to open a game up.
--Field Level Media