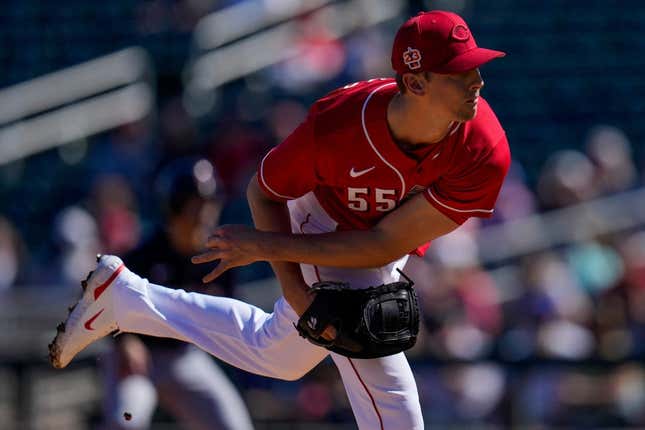 The cupboard in the Cincinnati minor league system is full of prospects, so it was inevitable the rebuilding Reds would start bringing up talent to the big leagues
Bass' ERA stinks, but not compared to who he is off the mound | Worst of the Week Countdown
On Monday night, it was Matt McLain, and the 23-year-old shortstop didn't disappoint. He got his first hit and scored two runs in his major league debut against the Colorado Rockies, looking as if he belongs
Unfortunately for him, the Reds lost 9-8 to the Rockies on Monday in the opener of a three-game series at Denver. The teams will meet again Tuesday night, with Cincinnati debuting another prospect, left-hander Brandon Williamson, who was called up Monday
He will face right-hander Chase Anderson, who will make his first start with the Rockies after being claimed off waivers on Friday
If Williamson's first major league game is as successful as McLain's, the Reds will have a chance to even the series. McLain, who was ranked by MLB Pipeline as the organization's No. 5 prospect, showed his value in his second at-bat on Monday night
McLain blooped a hit to center field and used his speed to stretch it to a double. Moments later, he scored on a single, just sliding past the tag of catcher Austin Wynns.
McLain earned a shot to stay in the lineup.
"He fits right into our team, plays the game the right way, plays hard. He works hard," Cincinnati manager David Bell said. "He's here for one thing, to go out and win a baseball game, so he'll fit in beautifully to our team. It was determined that he was ready for it, and he's going to get an opportunity to play."
Williamson, 25, went 2-4 with a 6.62 ERA in eight starts for Triple-A Louisville this season. Last year, he finished with a combined 6-7 record and a 4.11 ERA in 27 starts between Double-A and Triple-A.
Anderson will face his former team in his first start of the season. The Reds traded the veteran to Tampa Bay on May 3, and he made two relief appearances for the Rays, picking up a save that day in his first game with them
He pitched again last Tuesday but was designated for assignment on Wednesday despite throwing a combined five scoreless innings in his two outings.
Anderson has faced Cincinnati 16 times in his career, 15 of them starts, going 6-3 with a 3.72 ERA.
Colorado brought in Anderson to help fill a hole in the rotation. The team has lost three starters to injury over the last month -- German Marquez (Tommy John surgery), Antonio Senzatela (right elbow sprain) and Ryan Feltner, who sustained a skull fracture and a concussion when he was hit by a line drive on Saturday.
The Rockies, like the Reds, are giving young prospects a chance to prove themselves this season, and Colorado outfielder Brenton Doyle has seized his opportunity. Doyle hit two home runs in the Monday win, giving him three long balls in the past two games
He also made a diving catch on Monday that kept Cincinnati from mounting a big rally.
"I take a lot of pride in my defense," Doyle said after the game.
He is impressing manager Bud Black.
"With Brenton, we've talked about his skill set, and it turned up (Monday) night," Black said. "It's good to see. He's gaining confidence."
--Field Level Media