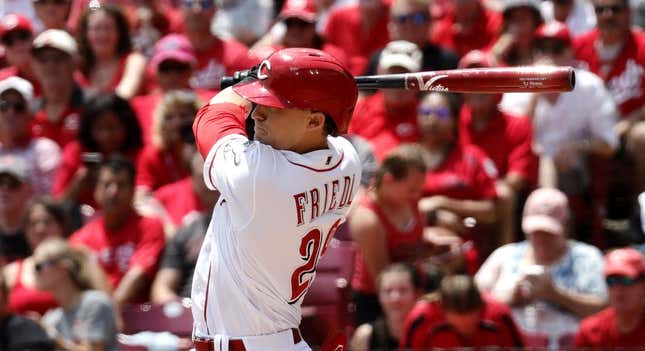 One of baseball's biggest surprises this season meets one of the sport's biggest disappointments when the Cincinnati Reds host the San Diego Padres on Friday in the opener of a three-game series
Is Texas or Florida State a bigger national title contender? | Agree to Disagree
The Reds, coming off only the second 100-loss season in their long history, have rebounded in a dramatic way
The Padres came into 2023 with a star-packed roster and World Series expectations, but they have flopped
The upstart Reds, on the strength of rookies such as Elly De La Cruz, Matt McLain, Spencer Steer and Andrew Abbott and a young core of stars, enter Friday having won 14 of 17 to bolt grab a share of first place in the National League Central
Following a 12-game winning streak, the Reds lost three straight. However, they rebounded to take the last two games in Baltimore, including an 11-7, 10-inning win on Wednesday that secured a series victory
TJ Friedl, a third-year center fielder, belted a two-run homer as part of a four-run 10th inning that capped a long three days in Baltimore. The Reds dealt with lengthy rain delays in the first two games and bounced back after falling 10-3 in the opener
"It was an incredible series with a lot of adversity," Friedl said. "Rain delay, a couple of long days and we were able to get the series win. It was big after losing the first one, coming back and getting two more."
Friedl, the club's regular leadoff hitter, has been one of the key players for the Reds in their surge. He leads the team in batting average (.320), on-base percentage (.388) and stolen bases (14)
"We're going to keep going," Friedl said. "We're going to keep doing what we're doing. Nothing is going to change on this team. We have our identity. We know who we have. Every day we're going to compete the best we can."
De La Cruz snapped an 0-for-14 slide with two hits on Wednesday.
San Diego enters the Cincinnati series having lost five straight and eight of 10, including a 5-4 setback on Thursday at Pittsburgh in which the Padres wasted a 4-0 lead. The Padres are now a season-worst seven games under .500
"It's excruciating for everybody here," San Diego manager Bob Melvin said. "At a time when we should be playing better and thought we would be playing better, we're going the other way. We're not playing good baseball across the board."
The Padres didn't get much help against the Pirates from three of their biggest starts. Fernando Tatis Jr. went 1-for-14 in the series, Juan Soto was 1-for-9 and Manny Machado finished 2-for-13, and none of the three had an RBI
San Diego left-hander Blake Snell said, "If anyone can turn it around, it's us. We start putting everything together as a team, and we'll be where we want to be. We're going to find a way to do it."
The Reds will send right-hander Graham Ashcraft (3-6, 7.17 ERA) to the mound on Friday. He will be making his second start back from a bruised left calf sustained on June 8 vs. the Los Angeles Dodgers, his 15th overall this season
Ashcraft faced the Padres for the first time in his career last month, when he gave up one run in six innings during Cincinnati's 2-1 win on May 2
San Diego will counter with right-hander Seth Lugo (3-4, 4.01 ERA), making his 11th start. Lugo is filling in for righty Yu Darvish, who was scratched on Tuesday due to an illness. Manager Bob Melvin rescheduled Darvish for Friday, but Darvish had not improved enough to make the start.
Lugo is 2-1 with a 1.16 ERA in 15 games (two starts) against Cincinnati. He beat the Reds on May 3, when he tossed six innings of one-run ball
--Field Level Media