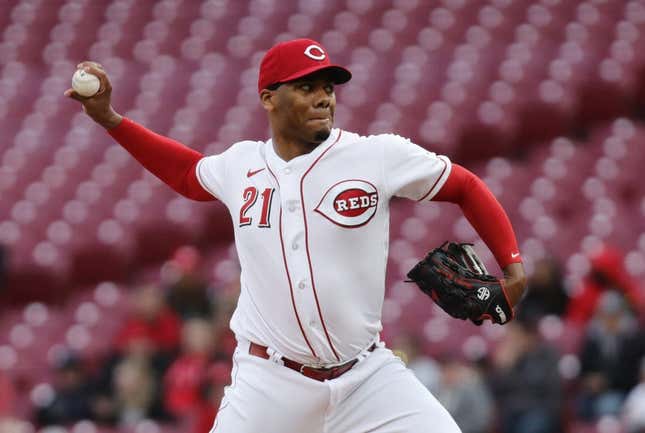 Hunter Greene, one of the three cornerstones of the Cincinnati Reds' young pitching staff, is now the first to be locked up to a lucrative long-term deal
Air Jordans are more American than McDonald's French fries | Deon Cole's Ultimate Sports Fantasy
Vice president of baseball operations Nick Krall announced that Greene signed a six-year contract extension prior to the Reds' Tuesday night game with the visiting Tampa Bay Rays
The guaranteed contract for the hard-throwing right-hander is worth $53 million contract through the 2028 season, and includes a $21 million club option, with a $2 million buyout, for 2029.
"The commitment we made to Hunter reflects his commitment to this organization and to our community," Reds CEO Bob Castellini said in a statement. "He is part of the foundation of young players who will continue to help us build a successful major league team.
The deal comes less than 24 hours after Greene was drilled in the right shin by a one-hop grounder to the mound, forcing him to leave after three shutout innings.
In four starts this season, Greene is 0-0 with a 4.24 ERA, recording 24 strikeouts and six walks in 17 innings.
The 23-year-old Greene became the first pitcher under the age of 26 to start for the Reds on Opening Day since 1980. Through Monday night's start, Greene has 188 strikeouts in 142 2/3 career innings
He went 5-13 with a 4.44 ERA in 24 starts as a rookie last season.
Greene was selected from Notre Dame High School in Sherman Oaks, Calif., with the team's first pick of the 2017 first-year player draft, the second pick overall.
--Field Level Media