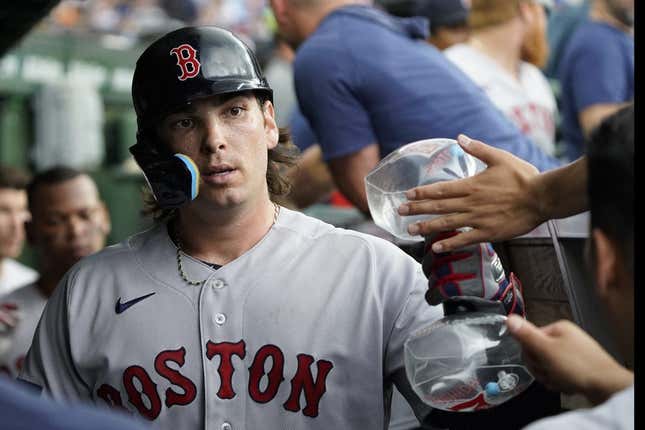 The Oakland Athletics will throw a new look at the Boston Red Sox in hopes of getting results a little different than in their recent series when the clubs kick off a three-game set on the West Coast on Monday night
Is Texas or Florida State a bigger national title contender? | Agree to Disagree
The Red Sox will be seeking their 10th win in their last 12 games, while the A's will be looking to end a seven-game skid that includes Boston's three-game home sweep leading into the All-Star break
The Red Sox outscored the visitors 21-9 in that series, getting big-time contributions from Jarren Duran and Alex Verdugo, who combined to go 10-for-19 with two homers, seven RBIs and seven runs scored
Duran, who started only the first two games of the set, was the biggest problem for Oakland pitchers. He hit for the cycle over the Friday and Saturday wins, going 5-for-9 with two singles, a double, a triple and a home run.
The A's managed three runs -- about their first-half average -- in each of the losses but have since imported additional production in the form of top prospects Zack Gelof and Tyler Soderstrom.
Gelof has four hits in three games -- at least one in each -- since making his major league debut Friday against the Minnesota Twins. Among the hits are two doubles and a triple.
Meanwhile, Soderstrom went hitless in his big-league debut Friday but totaled three hits over the weekend, helping the Oakland offense put up a total of 15 runs in three straight losses.
"There's a reason they called us up, and that's because they think we can help this team win," Gelof said. "We'll do anything we can do to add to this team."
It's unclear whom the rookies will face in Monday's series opener, although Red Sox manager Alex Cora indicated Sunday that he's likely to go with right-hander Nick Pivetta (5-5, 4.83 ERA) and lefty Chris Murphy (0-0, 2.16) -- in a yet undisclosed order -- in the first two games of the series
Pivetta and Murphy both pitched in the previous set against the A's. Pivetta picked up a win after allowing three runs (two earned) in five innings in a 7-3 triumph in the series opener on July 7. In the finale two days later, Murphy worked three innings in relief, allowing one run on two hits and four walks. Boston won that game 4-3.
Pivetta has made four appearances (three starts) against Oakland, going 4-0 with a 1.00 ERA in 27 innings.
The A's have announced right-hander Paul Blackburn (1-1, 4.86) as their starter for Monday. He made a rare relief appearance, just the fourth of his career, in the finale against the Red Sox, allowing two runs in the sixth inning of the 4-3 loss and getting stung with his first blown save
The 29-year-old has faced the Red Sox three times in his career, twice as a starter, and is 1-1 with a 6.10 ERA
He will be facing a Boston offense that put up 23 runs in taking two of three from the host Chicago Cubs coming out of the All-Star break. The Red Sox ripped 10 home runs in the series, getting one each day from Triston Casas and three over the weekend from Rafael Devers
Casas says he and his teammates are all just trying to be more like Masataka Yoshida, who will bring a .317 average into the Oakland series and contributed a grand slam to Sunday's 11-5 win.
"We all learn from his approach," Casas said of Yoshida. "He's just spraying the ball over the field, having really quality at-bats every single time. He's one of the best players in the league ... for average, he's starting to hit for power, and he's got that clutch factor, too. We're all taking notes from him."
--Field Level Media