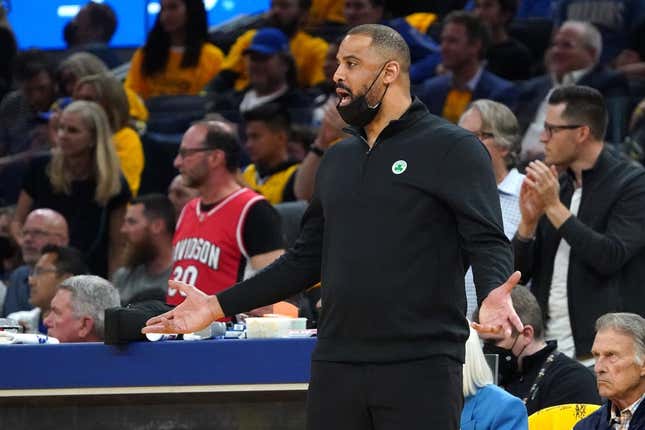 Since guiding the Boston Celtics to the NBA Finals last June, Ime Udoka experienced peaks and valleys in his professional and personal life, including being fired before the start of the 2022-23 regular season.
Chris Paul should ride the bench next season | Keep it a Buck(et)
"What I learned through this process is being resilient and avoiding putting yourself in certain situations in the first place," said Udoka, who met the media on Wednesday as head coach of the Houston Rockets
Rockets owner Tilman Fertitta said he spent time doing background work on Udoka and needed the NBA's blessing to offer him the job. He said the NBA was "comfortable with Ime as coach of the Rockets.
Fertitta and Udoka declined to discuss details or precise reasoning for the Celtics' split. Udoka did say he went through counseling with his son and sensitivity training.
"My part in it was to take ownership and accountability for my part. (The Celtics) had a choice to make a decision and they went that route. My thing was to own up to it, take responsibility and serve the suspension. I had to own it, honestly," Udoka said.
The Rockets fired coach Stephen Silas at the end of the regular season, Fertitta said the franchise knows Silas will "be a great asset" to another NBA team
Houston is rebuilding. Reports before the Rockets confirmed Udoka's hiring on Monday focused on the franchise pitching him on the potential for a rapid rise in the Western Conference with 14 percent chance to win the NBA draft lottery and significant cap space to lure free agents
Udoka received high marks from his former players before his abrupt suspension and dismissal with the Celtics. Current Boston forward Derrick White said the team wishes Udoka the best in his new role.
"I'm happy for him," White said. "I think he's gonna do a good job out there."
Udoka and actress Nia Long were engaged last September when the Celtics suspended the head coach. They are no longer together and Long hasn't shared details of the split beyond confirming reports he was unfaithful to their commitment.
"The Celtics made a choice to make my family business public, and I don't understand why," she said in February. "It could've all been handled internally. I do understand why, but I can't talk about it. Maybe one day I will."
Udoka said he knows the Rockets spent time looking at his background and expects others to question the move. Fertitta said the Rockets "forgive him" for mistakes, and hopes others do the same
"They've done their due diligence and homework on who I was as a person," Udoka said. "We spent quality time together. Overall, I released a statement apologizing to a lot of people for the tough position I put them in and I stand by that. I feel much more remorse even now.
"I spent this last season working on myself in a lot of different ways, improving in areas, a chance to sit back, reflect and grow. The situation and matter has been resolved. I can't speak much about it."
--Field Level Media