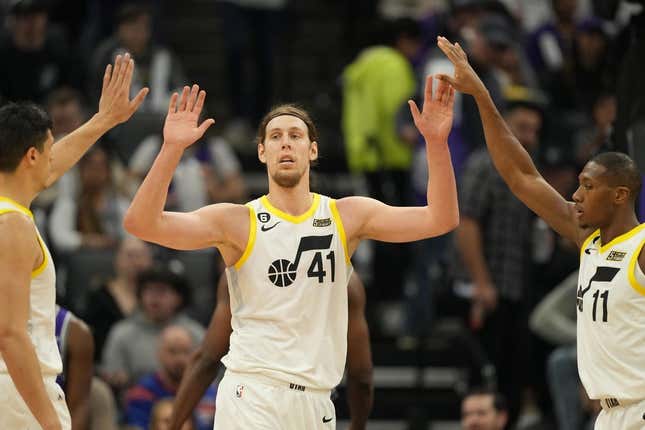 In their most recent games, the Denver Nuggets and Utah Jazz hardly were recognizable
Bass' ERA stinks, but not compared to who he is off the mound | Worst of the Week Countdown
During their 119-115 loss at Phoenix on Thursday, the Nuggets (52-28) didn't play a single starter
They'd already clinched the No. 1 playoff seed for the Western Conference, so the team gave ailing Nikola Jokic (calf), Aaron Gordon (shoulder), Michael Porter Jr. (heel), Jamal Murray (thumb) and Kentavioius Caldwell-Pope (illness) the night off against the Suns.
In Utah, meanwhile, the Jazz (36-44) were eliminated from postseason contention in their 114-98 home loss against the Oklahoma City Thunder with a bevy of players out of commission
Starters Lauri Markkanen (hand), Jordan Clarkson (finger), Talen Horton-Tucker (ankle) and Walker Kessler (concussion) were sidelined. Collin Sexton (hamstring) sat after returning from his extended absence for one game earlier in the week, while reserve Rudy Gay (back) also was out.
With nothing on the line Saturday afternoon at Salt Lake City when Utah and Denver meet up, it's uncertain exactly who will play - especially considering the Nuggets could use rest more than another win and the Jazz might improve their drafting position with a loss
Bruce Brown topped the depleted Denver team with 31 points against Phoenix, while Reggie Jackson added 20 points and DeAndre Jordan compiled 12 points and 11 rebounds.
"We're just trying to be smart about managing those injuries as we move forward," Denver coach Michael Malone said Thursday. "Speaking to the players individually and speaking to our training staff, having played 79-80 games to this point, those guys have been dealing with these injuries for a while. We want to be smart about what kind of positions we put them in."
Even without their starters, the Nuggets pushed the Suns and were neck and neck until Chris Paul hit his career-high seventh 3-pointer with a few minutes remaining to gain some separation
"I am happy and almost a little (upset) because I thought we should have won," Malone said. "Our guys fought, competed, played their hearts out and gave us a chance to win."
The Jazz, who have routinely played with a rotating lineup after Donovan Mitchell and Rudy Gobert were traded in the offseason, gave a solid effort against the hungry Thunder. Utah just didn't have enough down the stretch after erasing most of an early 16-point deficit
That ended the team's unlikely push for the postseason with two games left in the regular season.
"It's a hard moment to know that you're out," Jazz coach Will Hardy said. "But, again, I don't think our team should walk out of here or think about this season in any other way than with their heads up and their shoulders pulled back with a lot of pride.
The biggest drama for the Jazz in the waning moments - after Oklahoma City rebuilt its huge lead in the fourth quarter - was whether or not Kelly Olynyk would tally the franchise's first regular-season triple-double in 15 years since Carlos Boozer last accomplished the feat in 2008
Olynyk checked out with a few minutes remaining with 16 points, 14 rebounds and eight assists.
"Ten years in this league, I've played in the playoffs and been to the Finals. That's what it's about," Olynyk said. "Obviously, it's a (rough) feeling being officially eliminated."
--Field Level Media