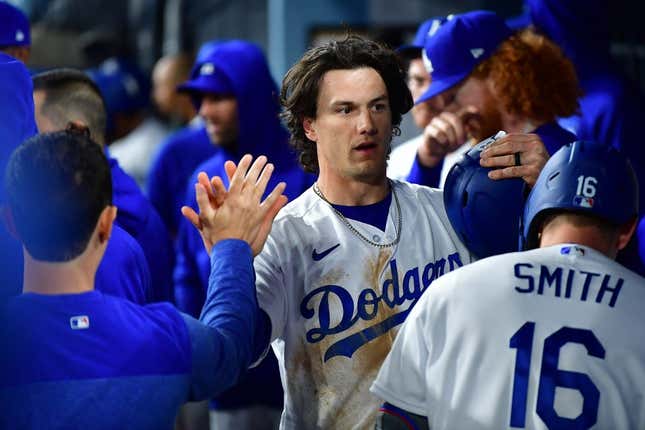 The Los Angeles Dodgers are the team with National League West titles in nine of the past 10 seasons, while the Arizona Diamondbacks have not won the division since 2011. Thus, the team with more rookies in the Opening Day lineup came as somewhat of a surprise
The Dodgers had two rookies who started in Thursday's season opener, while the visiting Diamondbacks had just one, yet Los Angeles came away with an 8-2 victory. Will Smith had three hits and drove in four runs for Los Angeles
The teams will play the second game of a four-game set on Friday at Dodger Stadium.
The Dodgers saw rookie second baseman Miguel Vargas walk twice in four trips to the plate, while rookie center fielder James Outman had two hits, including a homer, and three runs. Outman hit one home run in four games last season while making his major league debut but was playing at Dodger Stadium for the first time on Thursday
It was the first time the Dodgers had two rookies in the starting lineup for the first game of the season since 1985 (Sid Bream, Mariano Duncan)
The Diamondbacks believe they are at the dawn of a new era with rookie Corbin Carroll making his first career Opening Day start in center field. He went 0-for-3 on Thursday in his first game since signing an eight-year, $111 million deal in the offseason despite having played in just 32 career games (104 at-bats)
It is expected that Carroll will be in the leadoff spot at some point soon, but on Opening Day he was batting seventh as manager Torey Lovullo eases him into the season.
"It's a big ask to put somebody up that high in the lineup and expect him to excel from Day 1," Lovullo said. "I want to be sensitive to that. I think he can handle it, but I just want to take some time."
Like Lovullo, Los Angeles manager Dave Roberts eased his rookies into the season. Vargas batted seventh while Outman hit eighth.
The Dodgers thought Cody Bellinger would be their center fielder for a decade or more. With the former National League MVP having left as a free agent in December, Outman now could be that guy
"I think we just feel that he's going to be able to handle this runway, but it's an adjustment," Roberts said of Outman. "It's a game of adjustments and so there are some things he does really well and there are some things he can get better at. That's not just a young player, but that's anyone."
Tasked with facing rookies and veterans alike on Friday will be a pair of right-handers. The Diamondbacks will send Merrill Kelly to the mound, while the Dodgers will counter with Dustin May
Kelly, who was 13-8 last season with a 3.37 ERA in 33 starts, is coming off a stint with Team USA. In two starts at the World Baseball Classic, he went 0-1 with an 8.31 ERA. Kelly does not have a victory against the Dodgers in 12 career starts, as he is 0-9 with a 5.97 ERA over 63 1/3 innings
May was 2-3 with a 4.50 ERA in six starts with the Dodgers last season after returning from Tommy John surgery. May made five starts to open the 2021 season before he needed the elbow operation
In three career outings against the Diamondbacks (two starts), May is 0-1 with a 13.50 ERA over 5 1/3 innings
--Field Level Media