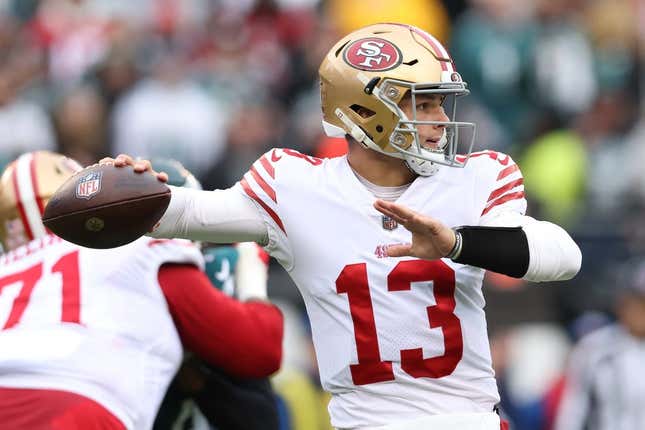 San Francisco 49ers quarterback Brock Purdy is moving closer to being ready for the start of the 2023 regular season.
How running an NFL team is like running a restaurant | Chef Emeril Lagasse
NFL Network reported Monday that Purdy will spend two weeks in Jacksonville, Fla., under the eye of quarterbacks coach Will Hewlett and orthopedic specialist Tom Gormely, who is based in the city.
Head coach Kyle Shanahan said earlier this month that Purdy was ahead of schedule in his rehabilitation from ulnar collateral ligament surgery on his right (throwing) elbow. The procedure took place March 10.
Purdy, 23, was injured during the NFC Championship Game against the Philadelphia Eagles. Shanahan had said before the NFL draft that Purdy could miss the first four weeks of the regular season.
But when he talked to reporters on June 6, Shanahan praised the hard work Purdy had been putting in to be ready to play.
"Brock's been great on his rehab," Shanahan said. "He's been as obsessed about it as you can be. That's why he's ahead of schedule."
San Francisco opens the season on Sept. 10 against the Steelers in Pittsburgh.
The 49ers have options at the position. Trey Lance is returning from a severe right ankle injury that required multiple surgeries, and free agent Sam Darnold joining the QB room after stops with the New York Jets and Carolina Panthers.
Purdy, the final pick of the 2022 NFL Draft, was thrust into action as a rookie following season-ending injuries to Lance and Jimmy Garoppolo, and he was a revelation for the 49ers.
He went 5-0 as a starter to finish the regular season, leading San Francisco to the NFC West title. He completed 67.1 percent of his passes for 1,374 yards, with 13 touchdowns and four interceptions.
In the postseason, Purdy was 2-1 with three touchdowns, no interceptions and 569 yards.
--Field Level Media