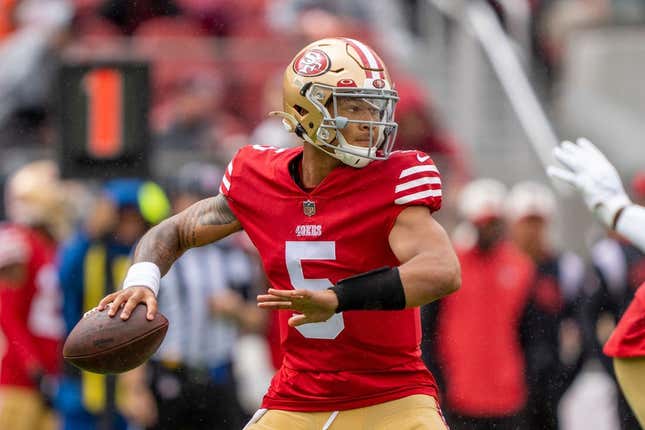 The 49ers have fielded "several" inquiries from teams interested in acquiring quarterback Trey Lance, NFL Network reported Wednesday
Marry a Taylor Heinicke, not a Tom Brady | Bert Kreischer on Love
Lance, the No. 3 overall pick in the 2021 NFL Draft, is potentially on the market with Brock Purdy expected to remain the starter for San Francisco.
Lance, who turns 23 next month, appeared in just eight games (four starts) over his first two seasons, completing 56 of 102 passes for 797 yards with five touchdowns and three interceptions.
Purdy, the 262nd and final pick in the 2022 NFL Draft, took over last season when Lance and Jimmy Garoppolo were injured and went 5-0 as the starter.
Purdy, 23, added two more wins in the postseason before sustaining his own injury in the NFC Championship Game loss to the Philadelphia Eagles. He's currently rehabbing from elbow surgery but expected to be ready for the start of the 2023 regular season.
The 49ers signed the 2018 draft's No. 3 overall pick, Sam Darnold, as a free agent in March and have reportedly considered signing former Falcons and Colts quarterback Matt Ryan
Ryan was the starter in Atlanta during current 49ers head coach Kyle Shanahan's tenure as Falcons offensive coordinator
--Field Level Media