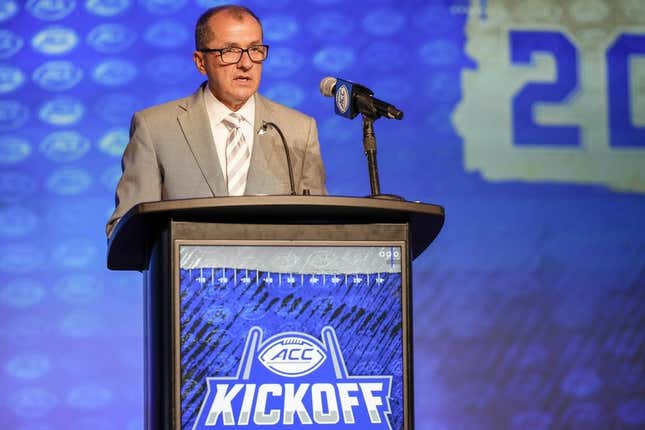 The Atlantic Coast Conference is nearing a decision about adding Stanford, Cal and SMU, ESPN reported Monday.
How running an NFL team is like running a restaurant | Chef Emeril Lagasse
ACC officials were said to be organizing a conference call of the league's presidents and chancellors on Monday morning to potentially vote on the issue.
A source told ESPN that expansion efforts are "trending in the direction of happening" but cautioned that nothing is finalized, and the additions are "only in pencil."
Expansion requires the approval of 12 of the 15 existing ACC members, however four schools — Clemson, Florida State, NC State and North Carolina — have expressed their dissent. One of those programs would need to change its vote, "and there's an expectation that will happen this week," per the report.
If approved, all three newcomers would be expected to join the ACC in all sports for the 2024-25 season.
Stanford and Cal reportedly agreed to accept a smaller share (approximately 30 percent) of league revenues if they join the ACC, while SMU reportedly would be amenable to getting zero broadcast money for its first seven years in the league.
Cal and Stanford are looking for new homes after the disintegration of the Pac-12 Conference over the past year. UCLA and Southern Cal kicked off the exodus last summer by announcing their move to the Big Ten. Last month, Colorado moved to the Big 12, and Arizona, Arizona State and Utah soon followed.
Oregon and Washington then relocated to the Big Ten, leaving just Stanford, Cal, Oregon State and Washington State still in the Pac-12.
The ACC last changed its membership in 2014, when Louisville arrived as Maryland exited. Notre Dame is one of the 15, though it maintains independence in football despite playing multiple ACC opponents annually.
—Field Level Media