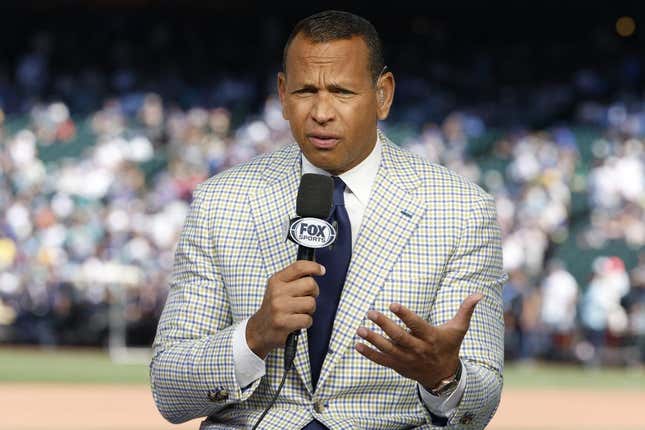 Retired MLB star Alex Rodriguez detailed to federal agents in 2014 his involvement with Biogenesis, admitting he bought performance-enhancing drugs and giving the names of three other players who were clients of the Florida company, an ESPN investigation revealed Wednesday.
Is Texas or Florida State a bigger national title contender? | Agree to Disagree
In an extensive report about Biogenesis and its founder, Anthony Bosch, ESPN said that during the interview nearly 10 years ago with attorneys from the Department of Justice and Drug Enforcement Administration agents that Rodriguez said Manny Ramirez, Ryan Braun and a third former All-Star were among Bosch's clients.
The identity of the third player was not disclosed in the report because he never tested positive for the drugs. Ramirez and Braun both were suspended for PED use.
The report also details that Rodriguez admitted during the Jan. 29, 2014, meeting that he had lied to Yankees president Randy Levine in 2012 when he denied doing business with Bosch.
The meeting took place after Rodriguez already had received a 211-game suspension for violating Major League Baseball's policy on performance-enhancing drugs. On that day, he was granted immunity from prosecution for admissions he would make, and he admitted that he bought the PEDs from Bosch, which he had previously denied.
Per the ESPN report, he admitted to spending about $12,000 per month on creams and lozenges that contained testosterone or human growth hormone — or both — during the period from 2010-12. Bosch was paid in cash, sometimes drawn from the Yankees' petty cash fund as an advance on his salary.
He also said his cousin, Yusi Sucart Sr., long had provided him with PEDs and contended that Sucart later tried to blackmail him for $5 million.
Rodriguez, now 48, was the No. 1 pick of the 1993 MLB draft by the Seattle Mariners and went on to play for the Yankees and Texas Rangers. He retired after the 2016 season.
Despite his slam-dunk Hall of Fame numbers — 3,115 hits, 696 home runs and 2,086 RBIs — voters have rejected the 14-time All-Star and three-time MVP in his first two years of eligibility because of his PED link.
However, Rodriguez seemingly has been rehabilitated in the public eye, becoming a minority owner of the Minnesota Timberwolves and Lynx, and enjoying a media career with ESPN and FOX Sports.
He declined to comment to ESPN about its investigative report.
—Field Level Media