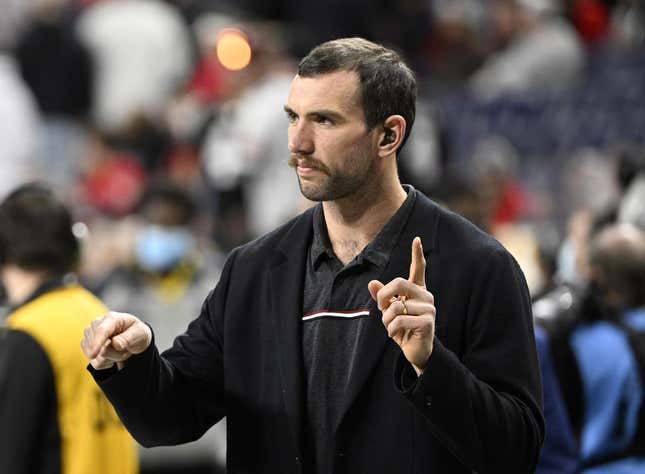 If the New York Jets or any other team in need of a quarterback think about reaching out to Andrew Luck, they should think again. He's occupied.
How running an NFL team is like running a restaurant | Chef Emeril Lagasse
Luck walked away from the Indianapolis Colts in 2019 at age 29, tired of the grind, of the injuries, and at that point seemingly out of love with the game.
Now, he's back in football, helping out at Palo Alto High School, the same city where he starred for Stanford, The Mercury News in San Jose, Calif., reported Thursday. He is enrolled at Stanford, earning his master's degree from the school of education.
He declined to speak to the newspaper, but members of the program were happy to share what Luck has brought.
"The first week he got here, we have our whole playbook and he walks in not knowing any of our plays," Palo Alto senior quarterback Declan Parker told the Mercury News. "The next day he comes, he knew every single play. It was crazy — he knows everything about football."
It isn't just the varsity squad that gets to benefit from Luck's knowledge. On Monday, he spent time on passing drills and timing routes with the junior varsity quarterbacks and receivers.
"It's great to have someone of that caliber on your staff," Palo Alto coach Dave DeGeronimo said. "The kids love it."
Luck, who turned 34 on Tuesday, played six seasons with the Colts, who selected him No. 1 overall in the 2012 NFL Draft. A four-time Pro Bowl selection, he was 53-33 in his 86 games in Indianapolis, throwing for 23,671 yards with 171 touchdowns and 83 interceptions.
—Field Level Media