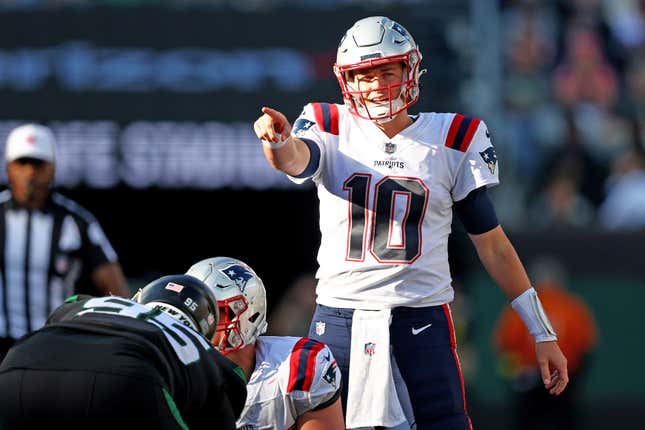 New England Patriots head coach Bill Belichick has been shopping starting quarterback Mac Jones this offseason, ProFootballTalk reported Tuesday.

Is Bill Belichick past his prime? | Agree to Disagree
Teams mentioned as potential destinations include the Houston Texans, Tampa Bay Buccaneers, Washington Commanders and Las Vegas Raiders, per the PFT report.
However, the Raiders have since signed QB Brian Hoyer to a two-year contract to back up Jimmy Garoppolo.
The report is just the latest in a series of reports to document tensions between Belichick and the Patriots' first-round pick (No. 15) from the 2021 draft
In addition to missing three games and being hampered by an ankle injury in 2022, Jones also was outwardly frustrated with the makeshift offensive coordinator tandem of Matt Patricia and Joe Judge, per multiple reports. Patricia's background is defense and Judge's is special teams.
Jones, 24, sought outside advice from his former coaches at Alabama, which further inflamed Belichick, per reports.
However, the Patriots brought back Bill O'Brien to be the offensive coordinator for the upcoming season, rectifying the problem on the coaching staff
Jones is 16-15 as the starter over two seasons with the Patriots. He has completed 66.5 percent of his passes for 6,798 yards and 36 touchdowns against 24 interceptions
Bailey Zappe, 23, is the only other QB currently on the Patriots' roster. He went 2-0 as the starter in place of Jones in his rookie season. The Patriots selected him in the fourth round of the 2022 draft
The Patriots were linked to Baltimore Ravens QB Lamar Jackson, who reportedly sent word through rapper Meek Mill that he would like to play in New England. But a report last week said the Patriots were not likely to pursue Jackson, given his salary demands plus draft capital that it would take to sign or trade for him
—Field Level Media