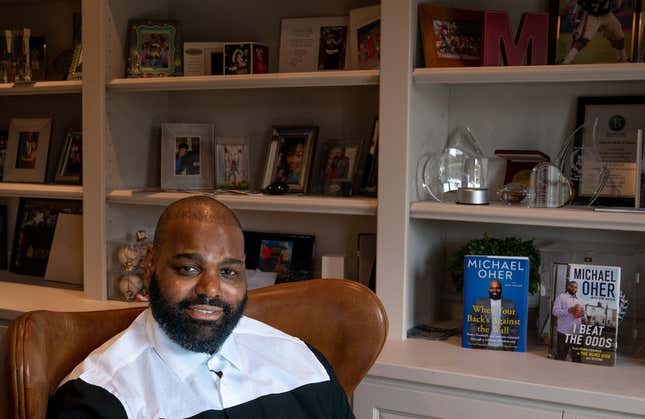 The feel-good story behind the 2009 blockbuster film "The Blind Side" was all a lie, retired NFL offensive lineman Michael Oher alleges in a lawsuit filed Monday in Shelby County, Tenn.
Is Texas or Florida State a bigger national title contender? | Agree to Disagree
Oher was the subject of the movie, about a well-to-do white family that adopted a Black teenager and gave him the stable home he craved. ESPN, which reviewed the 14-page court filing, said he never was legally adopted by Sean and Leigh Anne Tuohy, and, in fact, was tricked into agreeing to making them his conservators.
As a result, he said, the Tuohys made business deals that put money into bank accounts of the couple and their two now-adult birth children and shut out Oher.
Oher went to live with the family when he was in high school, and in 2004, after he turned 18, unwittingly signed the conservatorship document, according to the court paperwork.
"The lie of Michael's adoption is one upon which Co-Conservators Leigh Anne Tuohy and Sean Tuohy have enriched themselves at the expense of their Ward, the undersigned Michael Oher," the legal filing reads, according to the ESPN report. "Michael Oher discovered this lie to his chagrin and embarrassment in February of 2023, when he learned that the Conservatorship to which he consented on the basis that doing so would make him a member of the Tuohy family, in fact provided him no familial relationship with the Tuohys."
The family didn't immediately respond to ESPN's request for comment.
Sandra Bullock won the Academy Award for Best Actress for her portrayal of Leigh Anne Tuohy in "The Blind Side," which also was nominated for Best Picture. According to Box Office Mojo, the movie brought in $309 million worldwide, and per ESPN, the court filing says Oher received no compensation for a film "that would not have existed without him."
Oher, now 37, played at Ole Miss and was an All-American. The Ravens selected him in the first round of the 2009 NFL Draft, and he played 110 games (all starts) over eight seasons with Baltimore, the Tennessee Titans and Carolina Panthers.
In his petition, Oher is seeking to end the Tuohys' conservatorship and to bar them from using his name and likeness. He also wants an accounting of what the Tuohys have earned using his name and then his share of the profits and unspecified damages.
—Field Level Media